Community
UAE Campers Faced Horrifying Weather Conditions On NYE!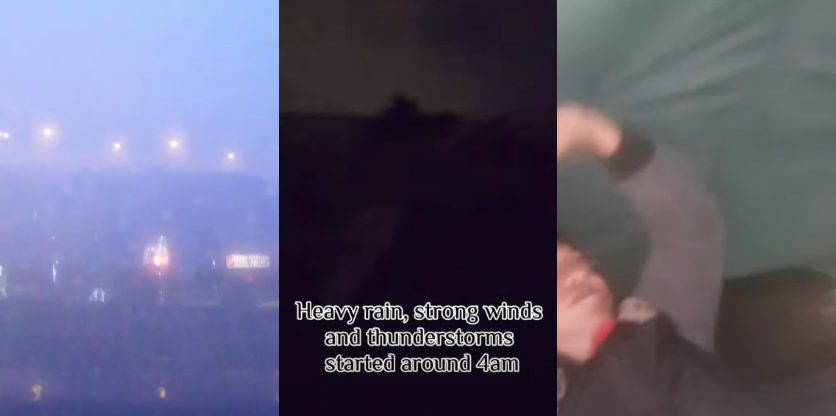 Nothing sucks more than having your camping plans foiled by horrendous weather conditions.
Whilst city-dwellers were mesmerised by the UAE's generous downpour this weekend, campers had different thoughts.
As a result of air depression and cloud seeding, the country has been facing unstable weather conditions since December 31, 2021, with coastal as well as valleys and desert terrains experiencing the full force of the storm.
Residents who set out for a wholesome recreation getaway with their friends and family were bombarded with horrifying weather conditions on New Year's Eve and the visuals will have you weak!
Quite a bumpy start to 2022, we must say.
View this post on Instagram
Residents who set out to Abu Dhabi's Al Wathba Desert and Dolphin Island were left battered by torrential rains at night
Campers shared accounts of cars being swept away as a result of valley floods, others had their tents destroyed due to violent winds, rain and thunder, and some were stuck in their vehicles – soaking wet from the pounding rainstorm.
View this post on Instagram
Celebrated the New Year in Dolphin Island and caught with thunderstorm while camping. A kind of new year to remember! Thankful to the Lord that everyone is safe and no one was hurt.
The UAE's National Centre of Meteorology shared a weather warning this afternoon of moderate to heavy rain over the Expo 2020 Dubai site
#أمطار #أمطار_الخير #استمطار #تلقيح_السحب #المركز_الوطني_للأرصاد#Rain #Cloud_Seeding #NCM pic.twitter.com/jbXPKbRTrT

— المركز الوطني للأرصاد (@NCMS_media) January 3, 2022
Watch The Lovin Dubai Show: Unvaccinated UAE Citizens Will Not Be Allowed To Travel Abroad
TOP STORY: Unvaccinated UAE Citizens Will Not Be Allowed To Travel Abroad https://t.co/eL9YomEvUS

— Lovin Dubai | لوڤن دبي (@lovindubai) January 3, 2022