Latest
5 Nerf Guns For If You're Bored At Home And Just Want To Shoot Stuff
Holla, wait a minute, issa 22…
Pew pew pew, pew pew pew!
If that song has got you wanting to shoot random stuff around the house, then you like me, are in despo need of a NERF GUN!
What better way to pass time around the house other than by loading up your (relatively) safe nerf guns and battling it out with your siblings or roomies?! YAAAAHHSSS!
It's wartime mis amigos!!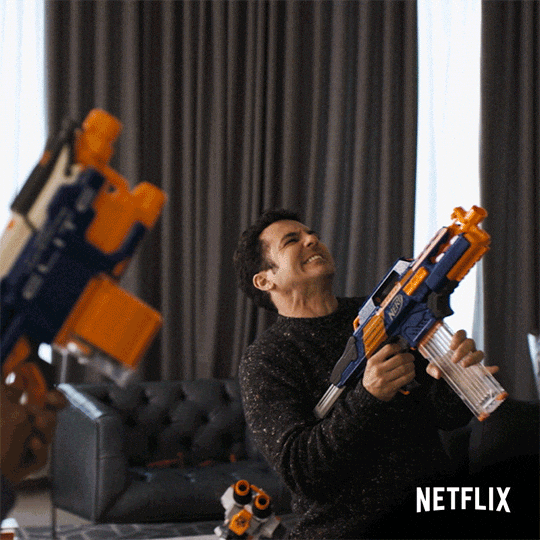 5. This X-Shot Toy Target Gun has 6 holes, so you can just load 'em up, keep firing and worry about picking up the bullet darts much later
Buy it from Amazon for AED 51.71 (down from AED 85).
4. These XShot Reflex Dart Guns are perfect for a dual play! This combo comes with 2 revolvers, 6 target cans and 16 darts. Test your accuracy or battle it out with all your friends. Cock, lock 'N' load firing your foam darts over 90Ft…
With the Reflex 6 Combo Pack, you can have the best firing rate with a 6-dart capacity rotating barrel blaster, or dual wield for total domination!
Promising review:
"Great toy and the darts are not dangerous at all if children are taught to handle these blasters properly.
These blasters are a bit difficult to handle for children under 6 (as per product description) because it is hard for them to load the blaster (pull the handle on the back). Overall, great toy, fantastic price and a lot of fun for the entire family."
Buy the pack of 2 from Amazon for AED 79 (down from AED 121).
3. The Xcess Blaster's dual ammo system means you can fire both darts and discs at your opponent without them knowing what hit them!
Promising review:
"I enjoyed and had a very good time playing with this toy."
Buy it from Amazon for AED 79.70 (down from AED 146).
2. These X-Shot Bug Attack Guns come with 96 darts fam!! Now shoot out wherever, 'cuz even if you lose a few, you'll still have loads to spare
Buy the pack of 2 nerf guns from Amazon for AED 129 (down from AED 191).
"It's very good and is fun to play with."
Buy the pack of 2 nerf guns from Amazon for AED 199 (down from AED 300).