Latest
Got A Pooping Machine For A Dog? Then You'll Need These 6 Items When You're Out Walking Or Traveling With Your Doggo
Got A Pooping Machine For A Dog? Then You'll Need These 6 Items When You're Out Walking Or Traveling With Your Doggo
*From one dog owner to another with love*
Doggys love to poop… well who doesn't… ok gross moving onnnnn, for the poop-machine doggos here are 6 LEAK-PROOF disposable bags and diapers.
These biodegradable doggo poop items are great for travel and will ensure you don't get fined for when you're out walking your poosh and nature calls!
Plus, the diapers are a BRILL solution for female doggies on their period.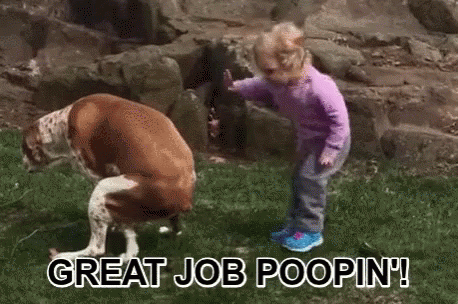 Promising reviews:
"Delivered as expected. Good quality product."
Buy it from Amazon for AED 109.99.
Promising reviews:
"Great quality and I like that it's biodegradable too."
Buy it from Amazon for AED 57.30. (Apply an additional 5% discount voucher directly from the site).
4. Grab those faeces with nothing but confidence with these Leak-proof Extra Thick and Strong Poop Bags for Dogs (18 rolls, 15 doggy bags per roll= 270 bags in total)
Promising reviews:
"I never imagined I'd grow up to write reviews of dog poop bags on the internet, yet here I am. I guess when you spend as much time as I do standing outside waiting for your dog to poop while he smells the same spot for 20 minutes, you start to think about things.

First of all, I have a dog who has what I politely like to call "anxious tummy." Sometimes people scare him in my apartment hallway, and he accidentally goes right there on the steps. In this moment, it is SUPER CLUTCH to have an easy-to-open poop bag like this one at the ready. And yes, I've noticed that a lot of poop bags are so hard to get open, which is not ideal when you're trying to clean up an embarrassing mess before your cute neighbour who you saw on Tinder rounds the corner and steps in it and you're publicly shamed because your dog can't handle his bowels.

My dog also prefers the feeling of mulch underfoot as he relieves himself. It's really hard to pick up poop from mulch without also retrieving a bunch of mulch. Wood chips and plastic bags typically don't mix, but these bad boys (or should I say good boys?) are able to handle the mulch without ripping and tearing which is awesome in my book."
Buy it from Amazon for AED 65.41.
3.Pack of 12 Medium Disposable Female Dog Diapers: Doggy diapers are a simple yet effective solution for travelling or female pooshes on their period!
Promising reviews:
"My elderly dog is incontinent and these diapers allow her to roam the apartment freely without damaging the rugs and wood floor. They have truly improved our quality of life. The fur-friendly fasteners don't get caught in her fur even when it's longer. The diaper can be taken off and put back on if unused (I do this if I take her on a walk and she hasn't used the diaper yet…obviously make sure it's still clean before reusing). Her waist is about 16" (give or take some fur) and she can wear both the Small and Medium size.

Small: less bulky, easier to walk in, holds less liquid (good for spotting or small accidents)

Medium: bulkier, makes her waddle a little bit, holds more liquid (better for night time when she may go more than once)

The diapers do not leak through but there have been a couple times with the Small size where she has saturated the diaper. At that point the fur on her belly and legs gets wet and if she's laying on the floor that can get a little wet too. This would only be a potential issue for fully incontinent dogs and not those with occasional leaks, but it does necessitate a bath so make sure you are changing the diaper frequently to avoid this situation."
Buy it from Amazon for AED 90.00.
2. Keep your pet feeling fresh and your floors sparkling clean with these disposable diapers. Featuring Fur Friendly Fasteners, leak-proof barriers and a super absorbent core, these 2X-Large, pack-of-12 diapers offer even more comfort and protection than the original Simple Solution disposables.
The wetness indicator even lets you know when it is time for a change, so your dog will never rock a wet diaper for long. Your best friend will be comfortable, and your floors will be dry.
Promising reviews:
"Yes, dog diapers are more expensive, but in my opinion, it's WELL WORTH IT. We bought another bag of the Simple Solution and we are all very happy again!"
Buy it from Amazon for AED 95.00.
Promising reviews:
"Not sure why anyone would give this less than 5 stars as this product really saved us! We have a one year old Chocolate Lab who just got her first period. We were shocked at first because we hadn't really thought ahead enough to realize she would be getting her period one day. And when it came, it came big! Lol… A VERY heavy flow. I ordered these on Amazon on a Saturday, chose one day shipping for an extra $4 or $5 and received the product Sunday morning. What a lifesaver!! We had been keeping her in her crate other than to use the bathroom but once we received this diaper she was free to roam around the house once again…she was back to her happy self! We lined the diaper with a regular woman's maxi pad and it worked great. The velcro straps held up the diaper and even though it kind of bothered our dog a little at first, with a few corrections from us (telling her no when she would try to bite at it), she was soon acting as if it wasn't even there. I highly recommend this product!"
Buy it from Amazon for AED 85.00.
Note: This article may contain affiliate links. Lovin Dubai can receive a commission if items are purchased through a link from this post.