Latest
Up Your Bathroom TikTok Game With These 8 Wacky Shower Curtains That Are A Total MOOOD
Chiquitasss, you guys will literally be WINNING in life with these ridiculously cute shower curtains!
Your bathroom will take up a life of its own with these 8 crazily fun shower curtains, that no normal human can ever scroll past without adding to their shopping cart.
Needless to say, bathroom TikTok vids are about to get a whole lot more interesting with these quirky backdrops lol.
Just don't be this guy when recording your vids with your brand new curtains…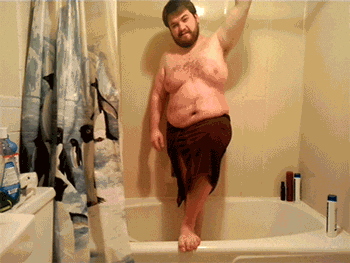 8. How fabuuu is this Chihuahua Spa Day Shower Curtain?! If this ain't a mood in life sis, I don't know what is…
Buy it from Amazon for AED 145.50.
7. A RAINBOW FARTING UNICORN OMG!! So apt for 'em gals… because women don't fart, they do however shoot puffs of glitter that sound like unicorn laughter and smell like rainbows
Men please take note of the above. Thanks.
I'll take one of these pleaseeee!
Buy it from Amazon for AED 125.50.
Cuz' the rest of us shower with our Halloween costumes on duhh.
Buy it from Amazon for AED 88.99.
5. This kayoooot 'Elephant Crushing The Toilet' Shower Curtain is literally how most of us feel like we weigh after eating up a whole buffet
Buy it from Amazon for AED 63.98 (down from AED 146.97).
4. This adorbs 'After-Shower Cat' Shower Purrr-tain (lol) is a HIT amongst cat owners/lovers
Promising review:
"Got as a joke… it's been up since….. It's really cute though if you're looking for something like this and let out a chuckle when you saw it. BUY IT!"
Buy it from Amazon for AED 82.99.
Buy it from Amazon for AED 131.39.
2. This 'Bulldog Holding A Martini' Shower Curtain is a Sunday, Monday, Tuesday, Wednesday, Thurs, Fri, Sat… erraday MOOOOOOOOOOOOD!
How much are you winning in life when even your shower curtain feels you?!
Buy it from Amazon for AED 135.50.
1. For those classy old souls still looking to add a little humour and chillin' vibe to their bathroom space, this 'Hipster French Bulldog' Shower Curtain is sooo meant for Y O U.
Buy it from Amazon for AED 135.50.