Latest
8 Practical Storage Organizers Good For Your Home And Easy On Your Wallet (Starting From AED8)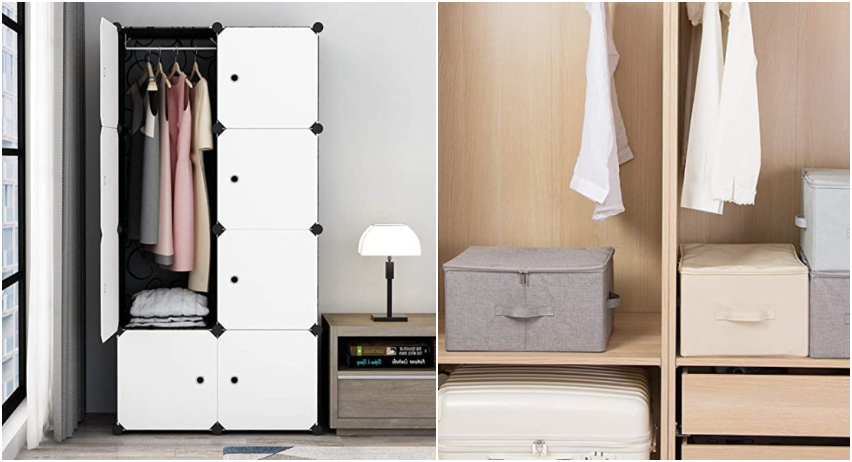 8 Practical Storage Organizers Good For Your Home And Easy On Your Wallet (Starting From AED8)
Organizing your life sure is a task… but organizing your home doesn't have to be with these 8 nifty storage products!!
8. Store your extra clothes and garments away in this stylish and practical DIY Cube Wardrobe Organizer!
Promising review:
"It's stylish and convenient. I was having trouble with one of them, and they were so quick and supportive to help.
If your having trouble assembling them, I strongly suggest you contact them, they will send tutorials and videos to help ease the process."
On Amazon for AED 152.90.
Promising review:
"For me, it was really helpful because I needed to put clothes on it which I did and it looks pretty nice. If you don't extend it to it's end then you can even put heavy sweaters as well but I don't recommend this for heavy kitchen utensils and heavy bottles of cleaners. And I don't recommend it for smaller objects because they will fall down from spaces in between for that you would need to put a card board on top."
On Amazon for AED 7.00.
6. Set of 4 Storage Boxes because having your snaccs organized and neatly tucked away is a whole mooood in lyf.
On Amazon for AED 135.44.
Promising review:
"Amazing product. Store all my winter clothes in it. Highly recommend."
On Amazon for AED 55.99.
4. This SUPER affordable 5-Tier Wire Shelving Unit is a quick and budget-friendly fix for all your storage needs!
Promising review:
"This shelf is very nice and strong. The size is compact but you can put lots of things. The layers are adjustable according to your wish that's the good thing. It's good in the kitchen as well as in a small room. You can save space because the size is good enough."
On Amazon for AED 8.48.
3. 8 Pack Foldable Cloth Storage Boxes to help you create some more storage space wherever you want, without having to install bulky and space-consuming shelves!
Promising review:
"I highly recommend you guys to buy this travel packing cubes. There are 9 set inside and it fits all your needs. You can easily pack your staff with these cubes, clothing, shoes, underwear and socks, toothbrush and so on. I can feel the quality when you touch the material of this product."
On Amazon for AED 79.99.
On Amazon for AED 52.00.
1. This Storage Basket will help you expand your storage space by attaching them under whichever horizontal surface you prefer, whether that's your fridge, a table, or a shelf.
Promising review:
"Nice tray, helped me to manage space."
On Amazon for AED 22.35.
Note: This article may contain affiliate links. Lovin Dubai can receive a commission if items are purchased through a link from this post.