Latest
Ward Off Nasty Odours With These 8 Aroma Diffusers That Also Make For The Perf Ramadan Gifts
Ward Off Nasty Odours With These 8 Aroma Diffusers That Make For The Perf Ramadan Gifts Too
Aroma diffusers disperse essential oils as a fine vapour throughout the air so they can be gently absorbed into your body through the respiratory system.
And do we even need to get into the COUNTLESS benefits of an effective aroma essential oil diffuser?! They purify the air, reduce dust particles in the air, smell GREAT (so spa-like), humidify the air, boosts energy plus gives a good night's sleep, and look ever so chic!
Also, these 8 aroma oil diffusers will make for the perfect gift for your loved ones during this holy month of Ramadan.
Now just play some relaxing music, drink your tea, turn on your aroma diffuser and drift away to the land of 'no cares given'!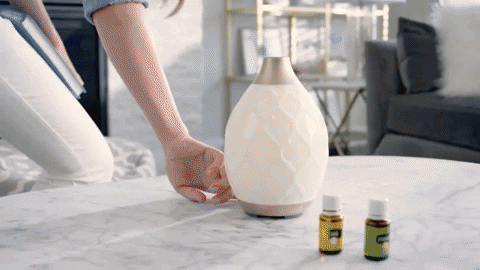 (P.S. The coupon "AMAZON15" is valid for new customers till the 30th of April with a maximum discount of AED 50.)
8. Do you like to enjoy the therapeutic fragrances of essential oils, which lift your mood and relieve you from the stress of your high-pressure lifestyle? Then this aromatherapy nebulizer may just prove to be exactly what your home needs…
Promising review:
"It's very good for refreshing all your house."
Buy it from Amazon for AED 49.
7. This highly-rated Essential Oils Diffuser with its silent design can help you reduce stress, improve sleep, improve work efficiency, can be used in the bedroom, office, SPA, yoga and other occasions, plus it can be carried around with you everywhere…
Promising review:
"This is my first diffuser and I have been very pleasantly surprised.
It works so well that my next-door neighbour commented on it and immediately ordered another one for himself!
The diffuser produces a steady (cold) mist stream from the peak of the wood-look pyramid, with a surrounding light that can be set to gently change colour or to be a steady colour with a couple of dimming options as well.

I would recommend this for anyone that is remotely interested in anything a room diffuser can achieve. A great product!"
Buy it from Amazon for AED 158.90 (down from AED 169.99).
6. This Wood Grain Aromatherapy Diffuser makes for the perf gift for families and friends with kids in the house! A safer alternative to candles and incense with the Innoocare aroma diffuser, you can obtain the aromas of aromatherapy and avoid the risk of burns, wax drops and other accidents…
Promising review:
"Wow what a beautiful quality diffuser! I was super impressed with this. First, the quality is fantastic and it was bigger than I expected. It was really easy to set up following the simple instructions. The diffuser, you can choose lots of different colours to match your mood or colour scheme. This looks so pretty in my room and really creates a focal point. It was easy to control and set up to my preferences. I would recommend to anyone looking for a diffuser."
Buy it from Amazon for AED 160.59 (down from AED 199.99).
5. This vintage-looking crafted Essential Oil Diffuser is a fave pick for sure! With its LED lighting, classy design  and amazing performance this aromatherapy diffuser is not one to disappoint
Promising review:
"I purchased this oil diffuser on a prime day along with lavender and rosemary oil diffuser and it turns out to be one of my best purchase this year.

The design is beautiful and the outer metal is sturdy yet delicate. Besides that, It is super light-weighted and easily refillable and has several options: 1 hour, 3 hours, and 5 hours. The led has a setting to change colours, so I usually leave it on during the night in my living room. I love that it is super quiet, you won't even notice it is working until you feel the smell of the essential oil. All in all, a great oil diffuser/ night light. Worth every penny!"
Buy it from Amazon for AED 199.90 (down from AED 239.90).
It is quiet, easy to operate, safe and convenient, can be easily plugged into USB, and automatically shuts down within 12/18 hours. It helps add cool moisture into the air. Many women and men find that a humidifier for the bedroom becomes an essential part of a good night's sleep when the air is dry, in allergy season, or when sick. With this snow mountain humidifier, you will never feel dry again.
Promising review:
"SMARTDEVIL desk humidifier. The first impression looks elegant, does not look cheap at all. Though it has a capacity of 500ml I believe that's all that I need, because whether you are using it in the office or home it will not take to much space to the point of being an obstacle. It's well designed. It is very silent you will not hear a sound coming from it, you will forget it's even there. In case you do forget about it. If the water runs too low it does have an auto power-off so as to protect the device, great edition guys, safety first. I bought a pink one for my babies room and it blends in well. Then there is the soft glow light, which I use as a night light for my baby which is plus.

Overall this is a great humidifier to have and I highly recommend it to all. To the seller kudos amazing product."

Buy it from Amazon for AED 55.99.
3. The Innoo Tech multifunctional 5 in 1 diffuser features an aromatherapy diffuser, humidifier, ionizer, and even a night light!!
Promising review:
"Oh, how I love this diffuser. I run it all day and it keeps going. I use it every night with lavender and when My kids are sick I use a special essential mix called Breath to clear up their sinuses. This diffuser runs all night on high setting and never runs out of water. It runs for a good 10 hours (or more) before it runs out of water. I actually would like to order another so I could leave it in my living room. I love using scented oils like peach or sea breeze, Makes my whole house smell divine."
Buy it from Amazon for AED 142.99 (down from AED 199.99).
2. Let the infinitoo humidifier become your home's guardian angel! This humidifier helps clean and humidify the air, improves the quality of the air you breathe, plus it provides hydration for dry cough, runny nose, eye irritation and dry skin…
Promising review:
"I'm not 100% sure how this little device functions, but it's a BEAST. I currently use this in our massive living room/dining room area, and within a few minutes, most of our first floor can be flooded with any scent of our choosing. You can't beat what it does for this price, so inexpensive! Not only does it make any living space full of any aroma you'd like, it's also simply visually pleasing. I'm a big fan of its appearance, it matches our furniture and everything and the ability to change the LED colour is awesome. I plan on picking up another one or two of these very soon for the rest of our home!"
Buy it from Amazon for AED 159.90 (down from AED 179.90).
1. This Innoo Tech Aroma Diffuser is especially handy during the cold and flu seasons to drive away colds with essential oils and to support the healing of the respiratory tract. Plus, the 7 changing LED lights can be a great night light for small children who are afraid of the dark…
Promising review:
"I have it right next to my bed to cast a nice water vapour mist over my face while I sleep with a light scent of whatever oil I add. My bedroom gets pretty dry and was causing me headaches and nose bleed in my sleep, this instantly improved it. Waiting to see the results on my skin for dryness and such. I definitely strongly recommend, even if you just use it as a cute lamp."
Buy it from Amazon for AED 105.99 (down from AED 169.99).