Latest
Since Most Pets Will Be Semi-Clean Shaved This Summer These Fun Pet Outfits Will Keep Them Cosy And Warm Indoors
Since Most Pets Will Be Semi-Clean Shaved This Summer These Fun Pet Outfits Will Keep Them Cosy And Warm Indoors
If you're planning on getting your kitties and doggos a semi-clean shave this hot… HOT summer (much like I am) then you need to gear up with some pet outfits to keep them from freezing indoors because of the full blast aircons or from getting sunburnt when playing outside.
Have your paw-fection babies looking cute as a button whilst feeling all cosy in these tiny pet outfits!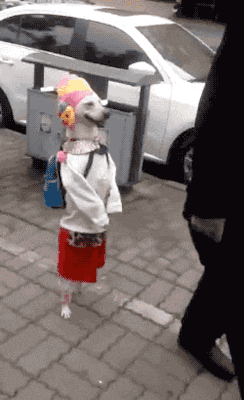 9. This Dinosaur Costume for both doggos and cats is way too roar-some to not add to your cart! Perf for a lil dress up session, Helloween and is next level Insta WORTHY.
Buy it from Amazon for AED 49.48.
8. If the po-po squad is THIS cute then who would mind being arrested?! Hehe, have your pet roaming around in this Police K-9 Unit Vest and catching all the crooks in your neighbourhood…
Buy it from Amazon for AED 45.00.
7. This HILAR Dress Suit Costume for pets will leave bystanders confused and scratching their eyes for a good couple of minutes until they finally realise what it actually is!
Buy it from Amazon for AED 48.42.
6. Not really an outfit but this retro Pet Sun Shades will have your fur baby looking ultra boujee this summer!
Buy it from Amazon for AED 23.39.
5. A little 'Security' Pet Hoodie, because your little four-legged baby is the only bodyguard you'll ever need.
Buy it from Amazon for AED 41.00.
4. Well, it's no secret that your pet is the BOSS of you! It's their way or the highway…
Buy it from Amazon for AED 52.00.
3. A little tee for pet mommies errawhere! Let their shirt do all the talking with this 'I heart My Mommy' Pet Tee.
Buy it from Amazon for AED 40.00.
2. Zip up your ball of cuteness in this Colourful Dragon Jumpsuit and have them strut around looking like the world's most waaadorable pet!
Buy it from Amazon for AED 78.99.
1. Strap on this Christmas Themed Hooded Cloak on your dumpling of a pet and watch them roll around all cosy in their soft and warm blanket-type cloak.
Buy it from Amazon for AED 235.67.
Note: This article may contain affiliate links. Lovin Dubai can receive a commission if items are purchased through a link from this post.