Latest
Back To School: Keep Your Rugrats Safe And Chilled In This Heat With These 16 Items
Back To School: Keep Your Rugrats Safe And Chilled In This Heat With These 16 Items
Our tods n teens are heading back to the grind yet again, but this time amid a pandemic and in the scorching HEAT!
So best to be prepared in all ways possible – to keep your kiddos safe and cooled down with these 16 itaaaamssss.
Isss 2020 folks… Anything. Is. Possible.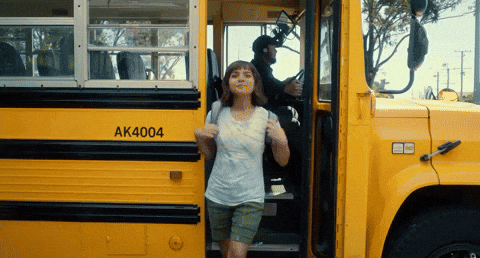 Buy a pack of 30 from Amazon for AED 129.00.
15. Hygienic and comfy Disposable Face Masks (with ear caps) for your little angels!
Promising review:
"These masks are extremely comfortable for children to wear. The other masks are generally irritating on the nose and the ear but this design has managed to take care of this issue. Plus the aesthetics are pleasing for the children. Kudos"
Buy it from Amazon for AED 59.00.
Promising review:
"Nice masks. Made of good quality cotton and with the nose clip. Fit perfectly. Very breathable."
Buy the pack of 3 from Amazon for AED 79.00.
If your kiddo is one to sweat buckets then this fan is a sure solution.
Promising review:
"I cannot praise this fan highly enough. What a genius idea this is! Since it arrived I have used it every day and I don't know how I survived without it before. I bought it because I'm having constant hot flashes which I find unbearable and I was due to go on an international flight which would be unpleasant without some kind of fan. I didn't expect it to be as good as it is. The quality is amazing. It has incredible power and the battery lasts for days. I rarely have to recharge it. I keep it on for hours and battery indicator barely moves. I love that it folds for storage and the fact it stands on a table. I put it on the nightstand while I watch TV or read or on the tray table on the aeroplane so I can have my hands free. I only need to put it on the lowest setting as the breeze it makes is substantial! The strongest setting is like being in a wind tunnel! I literally don't leave the house without it and it stops hot flashes in their tracks. The best money I ever spent. Highly recommended.

Update Jan 2020: the fan is still going strong and still performing at a high level. I loved it so much I bought a second one. No regrets."
Buy it from Amazon for AED 159.99.
12. NEVER forget to cover your mini-you with sunscreen before they leave the house! This NIVEA Spf 50+ SUN Sensitive Spray is specially formulated for children's delicate skin. Highly effective UVA/UVB protection immediately protects against sunburn and long-term skin damage.
Promising reviews:
"Great product for sensitive skin. Highly recommend."

"Recommended by our dermatologist for our baby with eczema."
Buy it from Amazon for AED 99.00.
11. Looking for a light, slick and durable backpack? Then this Unisex Nike All-Black Elemental Backpack will do you no wrong.
Promising reviews:
"Great bag wallah??"

"This is high-quality material finish and durable."
10. Make sure your athlete in the making is well hydrated at ALL times with this Cooling Sports Water Bottle!
Promising review:
"Great Quality and bottle design are so nice just have a notice that plastic number is not mentioned on the bottle as we can see on the other bottles."
Buy it from Amazon for AED 42.00.
9. You'll never have to pester your little ones to finish their water ever again with this Cute Chicky Kids Sippy Water Thermos.
Promising review:
"Very cute bottle, my daughter loves it. Good quality, no smell whatsoever. Very fast delivery, ordered last night and today was at my door."
Buy it from Amazon for AED 44.19.
8. Looking to lead by example?? Then boycott plastic completely and give your school-goer this Mini Stainless Steel Water Flask instead.
Buy it from Amazon for AED 77.11.
7. Give your sporty one this Cooling Towel to help 'em stay cool after a tiring PE session.
Buy it from Amazon for AED 35.99.
6. With the summer heat… comes the summer body odour. Hence, why you should always carry around this Axe Deo around with you (this applies to some adults well?).
Buy it from Amazon for AED 42.93.
5. These were all the rage back in my school days and they STILL are!! Lip Smackers = #1 flavoured lip balms, to keep your lips hydrated and smelling like a snacc all day long!
Promising review:
"All the flavours in the picture came in my pack, and they are spot on. I stopped drinking caffeine almost 2 years ago and really miss. Coke, Vanilla Coke and Barq's and these actually fill the void.

I'm a 32-year-old father and I stole 3 of these from my 2 and 4-year-old daughters, and I have no shame."
Buy it from Amazon for AED 40.03.
4. If you're not one to fan over lip balm flavours and are looking for an organic balm that gets the job DONE, then this eos Organic Lip Balm Sphere is your gal!
Promising review:
"My #1 chapstick. I would rather by this forever than any other chapstick I have tried. I been using chapstick avidly since middle school so that's saying something. This is the only one (all chapsticks might be different for everyone) but for me it stays on, hydrates very well, smells great, and actually leaves my lips smooth. With this chapstick put it on before you shower, before bed, when you wake up, and/or before you go outside. I found before shower then lightly exfoliate before getting out makes lips sooooo soft."
Buy it from Amazon for AED 58.93.
3. Have the morning rush made slightly easier on you with this PopBabies Portable Blender, that'll have your kiddos' power smoothie ready to go in less than a minute!
Promising review:
"I love this portable blender! I work in a fast-paced medical office and so i use this for my shakes in the morning at my desk and in the afternoon at lunch. Easy to clean i only charge it once every 4 or 5 days. It blends really well although when using powder its a bit tricky bht the ice helps that. I am very satisfied with my purchase."
Buy it from Amazon for AED 99.99.
2. Keep your baby protected from the harsh UV rays with this UPF 50+ Toddler Bucket Hat!
Promising review:
"Perfect for my little swimmer!"
Buy it from Amazon for AED 50.99.
1. Match these Hair Ribbons to your babyg's school uniform and have her looking neat and smart all day long!
Promising review:
"I got red, black, and navy. I got these to go with my daughter's school uniforms for next year. She loved the bows! Good quality, and they came quickly. The only thing I was bummed that white isn't offered as a color option. I would love these in a school uniform plaid also. I would definitely buy 2 more sets if I see that they are offered. Rather then that I am happy with the quality and the price. Would buy again!"
Buy it from Amazon for AED 31.88.
Note: This article may contain affiliate links. Lovin Dubai can receive a commission if items are purchased through a link from this post.