Latest
Your Mundane Office/WFH Life Is Going To Take A 360-Degree Turn With These 6 Products
Your Mundane Office/WFH Life Is Going To Take A 360-Degree Turn With These 6 Products
Sitting on your desk, hunched over your laptop for 9-10 hours is a no walk in the park, especially when every day feels like a repetitive never-ending routine.
So here are 6 products that will become the envy of your co-workers and will easily groove up your daily office routine instantly!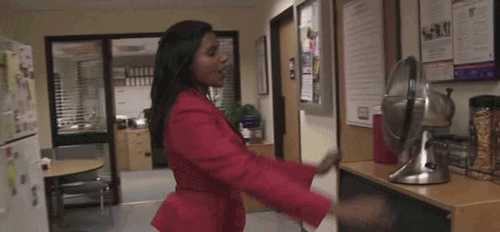 6. This Custom-Fit Balance Ball Chair will help you build a better core by just sitting on it!! This right here is what they call a MAGIC BALL.
Promising review:
"Have only had it in the office for a few days now, but it is great! In a regular chair, your hips get stiff because they aren't moving. With this chair, my body moves fluidly all day– keeping my joints and muscles happy :)"
Buy it from Amazon for AED 313.59.
5. Keep this Compact Humidifier at bay to keep your skin (and your mental capacity for office drama) from drying out as you work away on those never-ending emails!
Promising review:
"Why I liked this humidifier because it has lots of best features but the most amazing and wonderful thing I found is that it can shut off automatically when there is water shortage and I think it's very important like I can not monitor it all the item. This humidifier is also very easy to carry can be used for car and home both because it is portable.the quality of the product is very good and the look is also fantastic like attractive. I am satisfied. Thank you amazon."
Buy it from Amazon for AED 65.99. (You can apply an additional 6% discount coupon from the site directly). 
4. LOL say goodbye to the days of your co-workers stealing your food with this Mini-Fridge that you can just store away under your desk! Hehe.
Promising review:
"It is very quiet and very effective so much so that I had to turn it down a bot as it froze my milk :-)"
Buy it from Amazon for AED 324.00.
3. Skip the annoying walks to the canteen/cafeteria and munch away at your desk! Don't worry about the spillage though, because with this Washable Keyboard you can easily wash off all the crumbs and ketchup stains.
Promising review:
"Great keyboard for the price. My teenager is rough on keyboards, as he likes to nosh while gaming…so Mountain Dew and junk food have been the downfall of a couple of keyboards at my house. Washable keyboards such as this one is what I've been needing all along ? And this one does the trick quite nicely…feels and acts like a regular keyboard PLUS the convenience of being able to take a rinse-off and head back into service.
Would definitely buy again…but here's hoping I don't have to for a while :-)"
Buy it from Amazon for AED 129.27.
2. If you're not looking to replace your entire keyboard or just use a laptop, then this Dust-Proof Washable Galaxy Print Skin Keyboard Cover will very much satisfy the messy eater inside of you!
Promising review:
"I really enjoy it. Keeps my MacBook keyboard much much cleaner and I don't have to worry about eating around my computer as much!"
Buy it from Amazon for AED 92.00.
1. A yelling boss on one side, bickering colleagues on the other and 20 pop-up emails in front of you… now all you need is a Strong Wind Battery Operated Portable Desktop Fan to keep you from losing your COOL!!
Promising review:
"Today is the happiest day of my life I have found this stylish, reliable, wireless, super light, USB Desktop fan.
Wonderful battery timing, silent quiet and comfortable with 4 shifts ocean wind fluctuating from big to small.
It's a very safe product easy to clean.
I would like to recommend all of you to use this smartdevil fan for your life lasting experience."
Buy it from Amazon for AED 89.99.
Note: This article may contain affiliate links. Lovin Dubai can receive a commission if items are purchased through a link from this post.