Latest
Stay Clam And Make Your Beach Day The Best Ever With These 19 GENIUS Items!
Stay Clam And Make Your Beach Day The Best Ever With These 19 GENIUS Items!
We shrimply recommend these 20 items to anyone looking to spend an unforgettable and unproblematic day at the beach this summaah!
And with that, we bid a farewell to crabby beach days for good! Now just grab your beach bag and run to the nearest shore.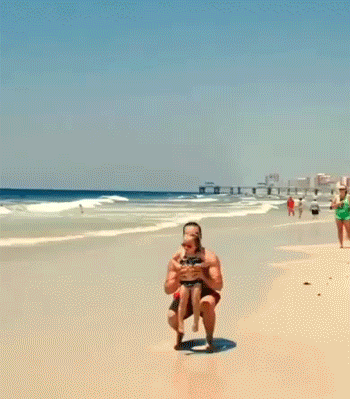 19. Let's just sleep until 4pm all summer long and then hit the beach? Deal! Go prepared with this Nifty Sports Umbrella to protect from blinding rays.
Promising review:
"Great kit for shadows for many: Great product for the price."
Buy it from Amazon for AED 295.00.
18. Tag along this Universal Waterproof Clear Phone Pouch to en-SHORE that your phone doesn't get all sticky or sandy at the beach. Plus you can also score some sweet underwater clicks with the help of this secure waterproof phone cover.
Promising review:
"Nice waterproof case, feels good quality, does what it says. I haven't used it too much but I hope it stands for the test of the time and more robust use. The clip is well made no danger of coming away. Nice clear panels. I've taken my iPhone XS into the sea for an hour it's been fine in the water :)"
Buy it from Amazon for AED 49.99.
17. This Solar-Powered Phone Charger that actually works! Because "pics or it didn't happen" can seriously drain your battery life.
It does not get bait-er than this!
Promising reviews:
"This product meets the required purpose. While on a sunny day, it charges up the phone and battery bank simultaneously."

"Fantastic! I plugged my Android phone into these panels and while streaming Netflix my phone charged at the rate of 1% a min and it wasn't even particularly sunny. I then promptly charged up my 15,000mha battery pack with no problems. The unit comes with a pouch on the rear allowing you to place your rechargeables out of the sunlight."
Buy it from Amazon for AED 159.00.
16. This Large Tote Beach Bag with multiple waterproof compartments will become your bag and savior this summer. Period.
Throw in your flip flops, towel, kindle, swimsuit, dry clothes, lotions or whatever else and well be assured that everything will remain guarded in place.
Promising review:
"This bag is big, has 4 nice size pockets on the outside. One zipper pocket for money or keys, it's huge inside perfectly fit 3 kids towels and my adult size towel with more room to fill other things. Also, it has a zipper at the top that opens to a wet side for you to add your wet clothes in. I haven't used it yet as I leave to the beach in a couple of weeks but over all from feeling and looking around I can tell this is a good quality beach bag."
Buy it from Amazon for AED 115.46.
Promising review:
"Very big bag, fits a lot, the cooling part is wide and keeps thing cool for a while, i definitely recommend it."
Buy it from Amazon for AED 39.99.
Promising review:
"I have a similar product I took with me to Bali. SO PRACTICAL and USEFUL. I got this one as a Christmas gift for my brother who's an avid beach goer, he absolutely loved it."
Buy it from Amazon for AED 69.98.
13. Are you one to quickly catch a cold?! Then leave it to this Lightweight and Microfiber Beach Towel to dry you up faster than you can say holy tide!
Promising review:
"Lovely smooth flawless textile and the stitched edges are finished really well. Colours are vibrant and they'll look great on the beach/poolside. The sand truly does not stick to them and they are very lightweight. The towel is super soft and lightweight. Its compact size will make it perfect for throwing it in the beach bag or when travelling. The towels are large enough for an adult and are surprisingly very absorbent. Would purchase again!!"
Buy it from Amazon for AED 94.99.
12. For those looking for a quality beach towel at an affordable rate can opt for this Waterproof Foldable Beach Blanket.
Promising review:
"If you really a beach person then this is a good product. A little bit tricky to fold but you will be used to it in two or 3 turns."
Buy it from Amazon for AED 15.00.
11. Looking to cram in a few Surya Namaskars on the beach this weekend? Then this colourful Rainbow Hot Yoga Mat will help keep you nice and calm as you complete your sun salutations.
Buy it from Amazon for AED 75.00.
10. Heading to the beach for a power walk or a sweaty jog? Then this Cooling Towel will become your BFF this freggin' HOTTTTTT summer.
Promising review:
"I bought 3 different cooling towels recently to try and this one by far is the best! Any temp over 75 and I have to admit that I'm not a happy camper, which makes summers pretty terrible for me. I've seen many different cooling towels advertised before, but decided to finally take the plunge, and I'm happy that I did. Clearly, all these products are basically just a wet rag, but this one holds water the best, the mesh managed to keep my clothes from being damp, and it really did help me feel much cooler.

I rewet this towel about every 2 hours, and maybe every half hour I gently "rewrung" it to redistribute the water (obviously after a while the water gents to gather in the ends, but it didn't drip!) and waved it in the air to recool it, and that was it. Wrapped around my neck, draped over my shoulders and back…it is kind of a lifesaver and I don't know why I waited till now to try these. I'm definitely purchasing more, and recommend this to anyone looking to cool off! Indoors or out, this is worth every penny."
Buy it from Amazon for AED 30.04.
9. Pack up some Foldable Beach Chairs for your day at the shore! Now just lounge around with your gang, be sippin' on some chilled bevvies and soak in some much-needed vitamin D.
Buy it from Amazon for AED 42.00.
8. Your very own Pop Up Beach Tent/Cabana with an anti-UV sun shelter?! Urrmm we're judging you if you're not even contemplating adding this to your cart.
Buy it from Amazon for AED 76.49.
7. Why ruin your good 'n trusted sandals when you can have a separate pair of Eco-Fused Non-Slip Rubber Sole Water Socks at your disposal for your day in the sand.
6. A 5-In-1 Sand Castle Set to keep your munchkins out of your hair as you enjoy a good read under the sun.
Had to plug in this gif somewhere… somehow… so there you go.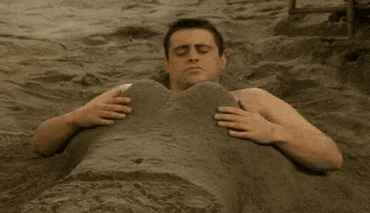 Promising review:
"Amazing material and will last a long time. It's a basic bucket and spade but really robust. What I like is that it has two spades so my little one always has an extra one for a friend in case they play together without having to fight over one. They also stack nicely so you don't have to carry a bag full of sand toys. Really happy with the price as well."
Buy it from Amazon for AED 59.00.
5. Until you become a pro surfer, ride the waves on this Intex Alligator Floatie! Gnarly bruv.
Promising review:
"Pretty good toy – kids like it."
Buy it from Amazon for AED 28.00.
Promising review:
"Very useful and high quality… I wear it even for walking in the back yard of my house.

Update: I bought many more for the workers in this hot summer days. They like it… Recommended."
3. This Bioderma Sunscreen will offer optimal protection against UV rays, thanks to its exclusive association of dermatological anti-UVA / anti-UVB filters.
Promising review:
"I love this product!!! I have lived in the tropics and now in sunny southern US. This sunscreen has protected me for years. I don't have age spots thanks to it and I am quite fair. It's a staple in my skin care. The box came on time. I'm very happy with the service."
Buy it from Amazon for AED 48.00.
2. The Banana Boat Sport Performance Sunscreen Spray SPF 110 protects against 99% of burning rays. It goes on easily and is proven to be long-lasting and very water/sweat resistant, with no greasy feel.
Promising review:
"I'm good at applying sunscreen at the beginning of the day, and not so good at reapplying through the day. I leave a can of this in the office and I'm able to reapply quickly without having my makeup budge.
The scent is quite pleasant, and I prefer it to the Hawaiian Tropic spray sunscreen which has a stronger fragrance. Would buy this again."
Buy it from Amazon for AED 53.30.
Promising review:
"3-speed options give me a big relieve To choose my best one. I am suing this while walking, washroom, kitchen too sometime. This product is amazing and excellent quality."
Buy it from Amazon for AED 49.99.
Note: This article may contain affiliate links. Lovin Dubai can receive a commission if items are purchased through a link from this post.