coronavirus
Money Heist Fans Will Literally Go WEAK After Hearing This La Casa De Papel Themed Coronavirus Track
Money Heist Fans Will Literally Go WEAK After Hearing This La Casa De Papel Themed Coronavirus Track
The corona effect:
From 'O bella ciao, bella ciao, bella ciao, ciao, ciao' to 'losing minds, minds, minds.'
From 'E seppellire lassù in montagna' to 'but in our struggle, this economy crumbles.'
Viral Morzaria, a 29-year-old Indian travel and entertainment blogger based in the UAE has found a pretty entertaining way to express how these testing COVID-19 times will soon be behind us; as the world looks forward to a positive and WOKE journey ahead with his latest track, 'Beat You Corona'.
The Bella Ciao spoof has garnered over 27k views on The Viral Vlogs; official YouTube channel.
"'Beat You Corona' a song about how coronavirus has come out of nowhere and changed our lives. It's a fun version of the song 'Bella Ciao' in the Netflix series Money Heist / La Casa de Papel"
Totally BERLIN up the charts (lol).
Beat You Corona being his brainchild, Viral teamed up his squad and conceptualised the entire 4-minute song right from the direction, editing, costumes, etc.
The song is sung by a Milan based singer Francesco II Mercante.
View this post on Instagram
'Beat You Corona' also paid tribute to the COVID-19 frontline heroes in their quirky music video!
"Without our doctors, police and cleaners, we would be lost, we could die… losing minds, minds, minds." – 1:49 – 1:56.
The delightful video also showed the ways that peeps around attempted to boost morale and thanked frontline workers during the battle against the pandemic
In the mood to dress up to go NOWHERE?! Then what better costume to dress up in than the Le Casa De Papel costoomè??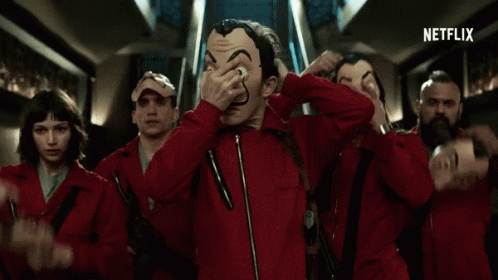 On Amazon for AED 48.00.
Would you look at that, issa mask onna mask… doesn't get more protective than this fo'sure! Complete your Money Heist look from this music video with a Dustproof Disposable Mask.
On Amazon for AED 18.74.