Latest
Calling All TwiHearts!! Recap On All Things Twilight In Honour Of The New 'Midnight Sun' Release
Calling All TwiHearts!! Recap On All Things Twilight In Honour Of The New 'Midnight Sun' Release
*TwiHearts errawhere after hearing about Stephenie Meyer's new Midnight Sun release announcement*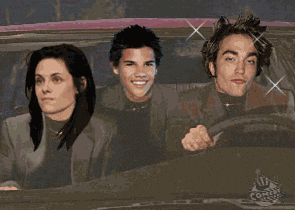 3. You spider monkeys can recap on all the romance with this fancaaayyy 5-book deluxe white-edition paperback boxed set… a box set whiter than the Cullens, may I add!
Promising review:
"This is exactly what I wanted, I'm so glad I ended up buying it. My set is perfect, I don't have bent in edges like others have mentioned. I'm going to have to be quite careful with this set, the white is so gorgeous in person. If anybody reading this is sceptical about buying this collection, I say go for it! It's a great price for what you're getting. This is truly a wonderful gift for any Twilight fan."
Buy the 5-book set from Amazon for AED 234.99.
2. Relive the full and final instalment of the much-loved Twilight saga with this Breaking Dawn – Part 1 (Two-Disc Special Edition) DVD! Re-visit their magical wedding scenes, sensual honeymoon and the birth of their hybrid child!!
Buy it from Amazon for AED 63.00.
1. If you're more if a bookwork or prefer to go for the audiobooks for a different story-telling experience, then you'll deffo want to add Breaking Dawn back on your list of reads! Relive your teen years and ponder over who you'd choose (team Edward or team Jacob) once again as if you were back to being your 13-year-old self…
Promising review:
"The end to the Twilight series is a well-written story and unique: As a series progressed Stephanie Meyers wrote the story to an increasingly more mature audience as the characters grew and the audience expanded.

I will say for writers or aspiring writers Stephanie Meyers does have a style that is very clear and draws the reader in. In the first two stories, she did leave Bella as a blank slate making it easier for the reader to slip into her shoes but also making the character more of an outline than an actual person. Depending upon the genre and the audience this can work and it's interesting to see even if it's not necessarily enjoyed."
Buy it from Amazon for AED 52.50.
OR get yo'self the All-New Kindle Oasis to save some trees and access all the Twi-reads online for half the price!
With an Amazon account, you have access to over a million Kindle eBooks in English, Arabic, French, Hindi and 40 other languages.
Buy it on Amazon for AED 999.00.