Latest
Your 9 Item 'How To Make The Most Of A Rainy Day' Starter Kit
These 9 things will easily make rainy days much less blehhh and more…. well non-blehh.
Rainy days here in Dubai are waaayy too rare, so when you know you've got a couple of days to soak it all in, you gots to make the most of it boo.
Step out into your backyard to splash around with your raincoat and click some fun pics with your waterproof cam OR snuggle up on a sofa with a nice cuppa hot cocoa and be reppin' the rainy day vibe.
…Always be prepped for the unexpected on rainy days in Dubai!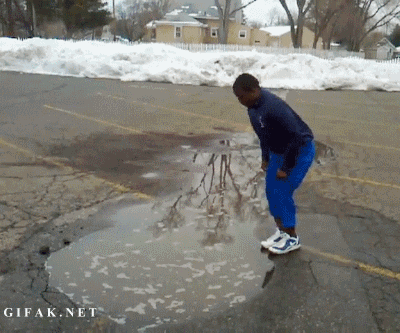 9. A raincoat duh, so you can rest easy knowing that the torrential downpours won't ruin your PJs
Buy it from Amazon for AED 62.
8. Some Nescafe Dolce Gusto hot chocolate to warm you from the inside-out while you curl up on the couch to watch the rain from your window…
Buy it from Amazon for AED 52.95.
7. A sleek pair of long waterproof Wellington Rain Boots that'll keep your feet so dry that you'll be splashing in muddy puddles the whole day
Buy it from Amazon for AED 161.91.
6. You can never go wrong with tasty Godiva chocos on a gloomy rainy day!! A candlelight dinner amidst the raging thunderstorm and some Godiva sweets? ISSA DATE!
Buy it from Amazon for AED 145.
5. This relaxing Elizavecca Bubble Clay Mask to liven up your skin and make others around you LOL with that goofy look on you, on an otherwise dark and gloomy day
Promising review:
"I am in love with this face mask. I am very cautious about the skincare products I purchase because I have sensitive skin due to eczema. Also, I have combination skin so certain products dry out certain areas of my face and it's hard to find a product that does not irritate, clog up, or dry out my skin at the same time. However, I've had great success with this mask! It is also the most fun product I have ever used due to the bubbling and then then the noise the mask makes when you squish the bubbles down."
Buy it from Amazon for AED 67.
4. Give yo'feet some heat therapy with this Electric Foot Warmer on a cold rainy day, whilst your busy flipping through a mag or reading your fave classic novel
Perfect for therapeutic pain relief for arthritis, poor circulation or those who simply feel the cold more than others.
Buy it from Amazon for AED 255.
3. A copy of Twilight to reminisce the alluring teen romance on a day much like the setting of Forks! Decide if you're still team Edward or Jacob while the rain is hitting your roof and the thunder rumbling off in the distance
Promising review:
"Okay, I first read this book 10 years ago. Around the time it first came out but before all the hype. I fell in love with it immediately. I have reread this book many time's and never get tired of it. Of course, I am Team Edward all the way. I fell in love with the vampire who is trying to be good but falls in love with Bella the girl whose blood he can not resist. I know lots of people criticized Stephanie Meyers writing but I don't care. I love her writing and if people call me dumb for it oh well."
Buy the paperback version from Amazon for AED 55.
2. A summer/winter appropriate umbrella that'll keep you safe from the cold sting of torrential downpours or the harsh rays of the sun…
Buy it from Amazon for AED 26.44.
1.  A Waterproof Ultra HD Camera so you can capture all the fun memories from your balcony or backyard without having to send your phone to repair the next day…
Promising review:
"The quality of the photos/videos it's amazing. In this version is missing the Image-Stabilization but the overall price/quality is worth a lot. Using it for diving and action recording, easy to transfer the data thanks to the wifi built-in. If you want an average cam this is the best choice."
Buy it from Amazon for AED 239.99 (down from AED 339.99).