Feature
Make The Most Of New Year's Weekend With This List Of Fun Activities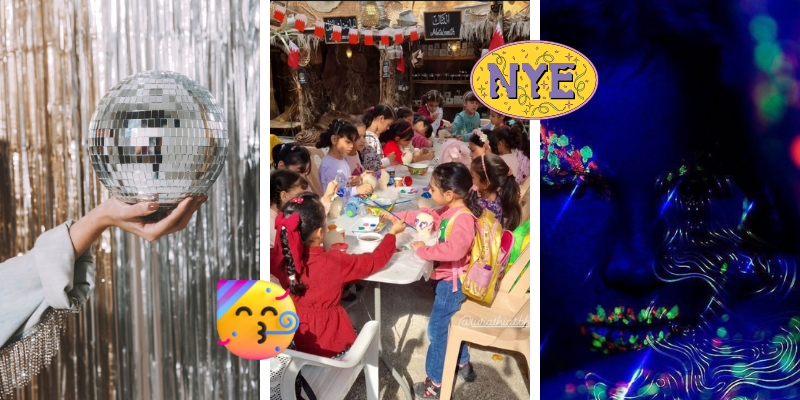 New Year's Weekend has officially begun and finding things to do is the best part. From the amazing firework and drone shows, tempting shopping offers, and the coolest festivals for you and the fam, this list of 7 activities is all you need this weekend, so keep it handy 👍

7. Watch all of Bahrain light up at the firework shows
View this post on Instagram
Bahrain is really going all out this year with some amazing firework and drone shows lined up for you and the squad. Make sure to charge your phones to get some first-class content of the beautiful show 🙌
6. Celebrate the New Year with some tradition at Heritage Village
View this post on Instagram

Heritage Village is bringing you some amazing food trucks, shows, and activities to enjoy on New Year's Eve. Grab the squad and head on over anytime between 4-9pm before the festival ends on Jan 1 👀
5. Ride around the city on a NYE bike tour
View this post on Instagram

You actually might get to see fireworks all around the city if you take part in this amazing bike tour around the island. It starts at 11pm at Bahrain Bay Beach, so grab some gear and a GoPro for some killer NYE content 🔥
4. Countdown to midnight with a disco party at Bagatelle Bahrain
View this post on Instagram
Disco never gets old and counting down to 2023 MUST be done in style. Grab your favorite retro fit, some cool shades, and countdown to the new year at this awesome party. The party starts at 7pm, and you can enjoy dancing until 1am! 🕺
3. Glow-up at the Ramada Hotel Glow party
View this post on Instagram
For just 28 BD, you can totally glow your way into 2023 with friends. Head on over to Ramada hotel in a colorful fit to dance the night away in a glow-in-the-dark themed party. The fun starts at 8pm! 🌟
2. Enjoy the prime rooftop view at Wyndham Garden
View this post on Instagram
Get the whole view of fireworks all over the city as you attend what just might be the coolest rooftop party in all of Bahrain. For just 39 BD, you get to enjoy some delicious food, bubbly drinks, and an awesome DJ set. Party starts at 9pm!
1. Eat some delicious grub before your 2023 diet at Fusions
View this post on Instagram
Fusions has a delicious buffet perfect for all the cravings you got this year. Get ready to enjoy one last night of delicious carbs, sweets, and a bunch of different cuisines before that 2023 dieting resolution in 🙌
Make sure to tag #lovinbahrain in all your fun activities!
Happy Early New Year!