Latest
5 Reasons Why Bahrain Is The PERFECT Stopover For The 2022 FIFA World Cup In Qatar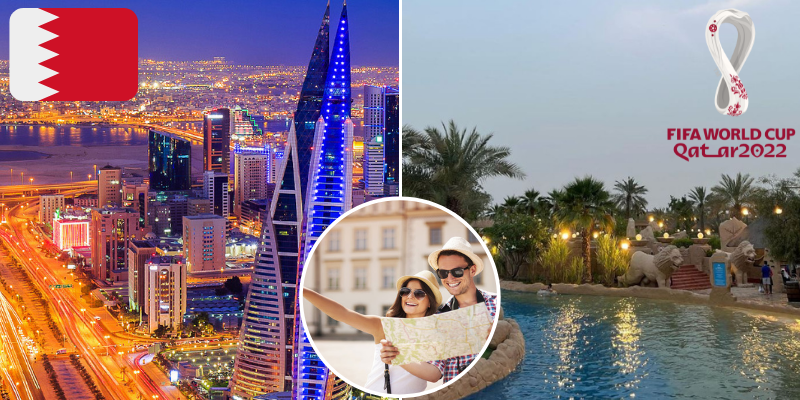 The 2022 FIFA World Cup is just weeks away and it's the perfect time to book your trips
Whether it's a 2 day flight layover, or a road-trip detour, Bahrain is a great place to stop-over before prepping to attend the world cup. The island is located just 450.2 kilometers from Qatar, and is a 40-minute flight away, without layovers.  The beautiful views, amazing food, great shopping, and relaxation ambiance is IDEAL as you set up base to head over to Qatar. Read through these five great reasons to consider Bahrain as a stopover on you World Cup trip.
1. Unwind before your trip on the Island's beautiful resorts
View this post on Instagram

Because Bahrain is an island, there is water literally everywhere which makes the visit the ultimate vacay retreat. From a five star experience at the four seasons, to a night out in the city of Manama, the hotel deals are AMAZING. The prices range from 20 BD (200 QR) per night all the way to a full five star experience of 100 BD (1,000 QR).
2. Stock up on some local snacks for the road
View this post on Instagram

Did you know that Bahrain is 34% cheaper than Qatar? If you're one to worry about the budget for the trip, pack up on the cheap local snacks that you can grab for just 1 Qatari riyal! Bahrain is known for the local grubs of chips, candies and chocolates. You can head on over to the nearest local market and grab some Bahraini Pofak, a cheese paratha from a local cafeteria, and of course the perfect 100 fils Karak from any spot around the island.
3. Cool-off at a waterpark before your trip
View this post on Instagram
Aside from the fact that there is a beach literally every 2 miles, Bahrain is home to one of the most amazing water parks in the world. Head over to Dilmun Lost Paradise and grab your tickets for just 15 BD (150 QR).
4. Grab some traditional souvenirs from the Manama Souq
View this post on Instagram

The Manama souq is a tourist-favorite when it comes to shoppping in Bahrain. You can grab the most beautiful dresses and shirts for the match, including the COOLEST jewelery. The souq dates back to the 1960's and is actually located at 'Bab Al Bahrain', a sea port to the island back in the olden days.
5. Check out some cool properties on the Island for a great investment opportunity
View this post on Instagram

Bahrain was ranked the number one place in the MENA region to retire folks, and that is a great reason for you to check out some apartments and properties for investment. The city of Manama has been ranked among the top 100 cities for retirement in the WORLD, and is quite easy on the pockets.