Latest
A Saudi Vlogger Gave An Authentic Review Of Some Of The Best Dishes She Tried In Bahrain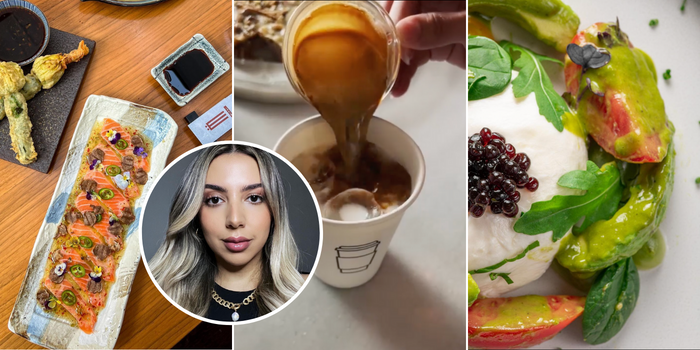 A Saudi Vlogger Gave An Authentic Review Of Some Of The Best Dishes She Tried In Bahrain
Bahrain is known for many authentic and international food spots, giving its visitors a chance to experience both find dining and traditional foods of the region.
This Saudi vlogger, Aziza, previously shared this video reviewing the best dishes she tried upon her visit to Bahrain, and we're about to take you through all of them so you can try them next time you're visiting and you wanna grab a bite you'll remember!
A Saudi Vlogger Gave An Authentic Review Of Some Of The Best Dishes She Tried In Bahrain
1. The Dockyard
Aziza described this spot as a small and cozy seafood spot. Her order was Steamed Mussels and Fish Tacos, and she said it was delish!
She also recommended their signature Fish n Chips, and said that although she isn't a big fan of fish n chips, she absolutely loved it there
View this post on Instagram
2. The Orangery
This place is known for being a nice breakfast spot. Although she didn't like the food that much, it was clear that she really liked their Mocha Frappuccino
View this post on Instagram
3. Fareej Bin Rashdan
For an authentic breakfast, she went to this spot and liked their Eggplant Hamsa a lot!
View this post on Instagram
4. Paper Cup Cafe
She also recommended this spot for grab-n-go coffee. It looks so cozy!
View this post on Instagram
5. Mirai Restaurant and Lounge
For Mirami, she rated the quality of the food 10/10, and recommended their Salmon Shiso dish
View this post on Instagram
6. Haji's Restaurant
Aziza shared a tip for visiting this place: Go as early as you possibly can!
She recommended their Lentil dish and Shakshukah
View this post on Instagram
7. My Cafe
Last but not least, she recommended My Cafe's breakfast and french toast
View this post on Instagram