Announcements
Egypt's President Abdel Fattah al-Sisi Joined King Hamad bin Isa Al Khalifa To Inaugurate The 14 MILLION Passenger Terminal At Bahrain International Airport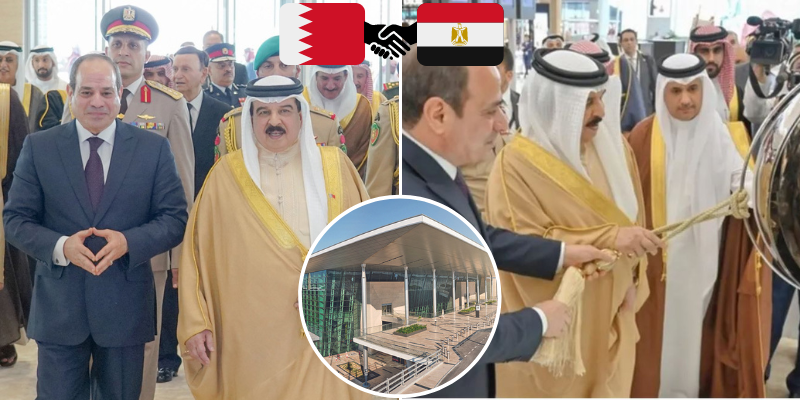 Bahrain International Airport welcomed Egypt's President along with King Hamad to inaugurate the new terminal
HM King #Hamad_bin_Isa, and the President of the Arab Republic of #Egypt, HE Abdel Fattah El-Sisi @AlsisiOfficial , along with HRH the CP and PM #Salman_bin_Hamad, inaugurate the new passenger terminal at #Bahrain International Airport pic.twitter.com/KCaoMgViBr

— أخبار سمو ولي العهد (@BahrainCPnews) June 29, 2022

Both leaders were seen at Bahrain International Airport this morning, for the official inauguration of the new airport terminal. This $1.1 billion passenger terminal has the capacity to welcome around 14 MILLION passengers yearly, and has over five thousand parking spaces. Upon their arrival at the site, Bahraini Ardha songs were chanted for a warm welcome to the King and Egyptian President.
Egypt's President Abdel Fattah al-Sisi flew in to Bahrain just yesterday for a meeting with the King to discuss regional cooperation and developments
HRH the CP and PM #Salman_bin_Hamad, meets with the President of the Arab Republic of #Egypt, HE Abdel Fattah El-Sisi @AlsisiOfficial #Bahrain pic.twitter.com/T85KBBK8xa

— أخبار سمو ولي العهد (@BahrainCPnews) June 29, 2022
The leaders were also given an exclusive tour of the airport, through its 22 E-gates, 24 departure gates, 21 restaurants, a hotel, and even a spa. Bahrain's new airport was also recently named the "Best Airport of 2022," by Skytrax.