Announcements
Here Are 5 ICONIC Women Entrepreneurs Of Bahrain You Need To Know About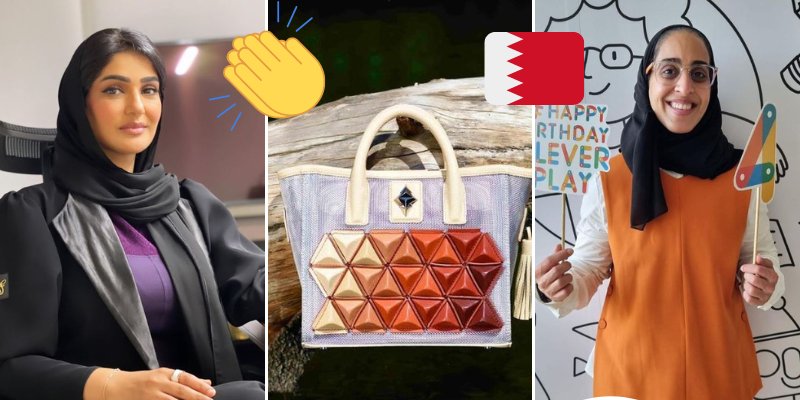 Bahrian is full of fresh-minded entrepreneurs that have the most amazing success stories and here are just a few
From being the founder of a luxury brand to making global partnerships, these women will definitely inspire you to shoot for the skies and believe in your own innovative ideas. Scroll down below to read all about these five icons that should definitely be applauded for their hard work.
1. Sofia Al-Asfoor
View this post on Instagram
This entrepreneur is the founder and designer for some beautiful handmade bags and accessories for her brand, Sofia Al Asfoor. The colorful prints and contemporary designs make her brand stand out from most in the Kingdom. A graduate from the London College of Fashion Cordwainers Fashion Accessories programme, this icon has pushed her brand to success with over 100 THOUSAND followers on Instagram, along with worldwide shipping. Talk about going global!
2. Roaya Saleh
View this post on Instagram
This genius is the mastermind behind 'Villa Mamas', also known as one of the most delicious modern Middle Eastern restaurants. She has even expanded to London aside from her startup branch in Saar. Roaya uses her travel and exposure to different cultures to add unique items onto her menu, to create the best selection. She makes sure to use only fresh produce and ingredients, and really serves it up when it comes to representing Bahrain. This legendary restaurant also lead Roaya to win the Global Enterprise of the Year! Check out her restaurant here!
3. Latifa Al-Khalifa
View this post on Instagram
Latifa is the genius brains behind Bahrain's empowering STEAM (Science, Technology, Engineering, Arts, and Mathematics) Program, Clever Play. She is the CEO and Co-founder of this innovative startup that prompts students to learn all aspects of the different fields through annual camps and workshops. Latifa follows the principle of working hard and never giving up. She believes, 'When you put your whole heart into it and embrace the trials and tribulations and use them as fuel, you will move further along the path and find even greater success.' Check out the awesome page if you're looking for your little ones to explore STEAM!
4. Aisha Abdulmalik
View this post on Instagram
Aisha is the mastermind behind her amazing jewelry line: Aishajewels. With over 81 THOUSAND followers on Instagram, her jewelry line has the coolest collection of both traditional and contemporary items. She started this thriving brand at the young age of 17, and has been witnessing success since. Her brand was named the Most Distinguished Business in Bahrain in 2016 and also won the Micro-Enterprise of the Year by the Bahrain Award for Entrepreneurship in 2017. If you're looking for some traditional Bahraini jewlery to accessorize with a modern twist, then check out her page!
5. Abeer Al Matooq
View this post on Instagram
Abeer is known as one of Bahrain's top life coaches, business executives, and HR consultants. She is the founder and managing director of 'Thrive Coaching Consultancy' which aids in providing services and consultancy to those looking to develop their leadership skills. Abeer is also professionally certified in life-coaching and is also the author of the famous book 'Be true to the song in your heart' which is all about self-empowerment and hard work. If you're looking for motivation and coaching in your future, then check out Coach Abeer because she definitely knows what she's doing.