Feature
Here Are Some Crazy Deals You Need To Get Your Hands On Before The F1 Races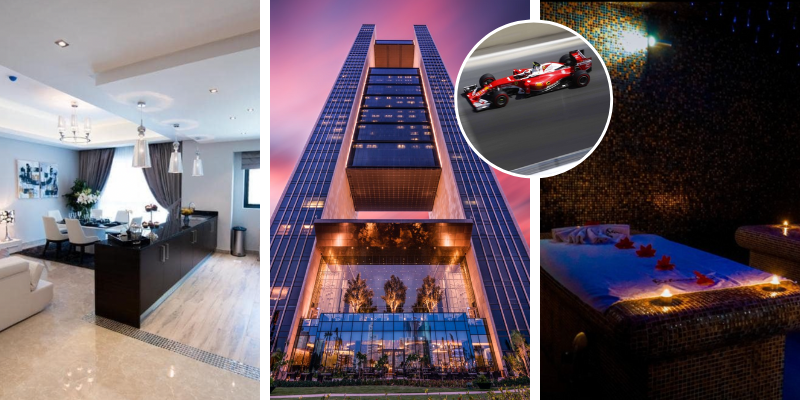 F1 is just a few days away and Bahrain is going to get crowded 👀. With famous performers like DJ Snake coming into town, tickets are officially SOLD OUT. If you're a ticket holder and are looking for a cheap staycation, meal, or activity in the Kingdom, then save the list down below and get booking!
Seef Manzil Suite – 69 BD
View this post on Instagram

Agoda is giving an amazing offer of 40% off and is giving and ENTIRE APARTMENT for 69 BD per night. Grab your friends and family for this one because it's located right in the heart of Seef. With malls, cinemas, restaurants, and cafe's right next to you, this spot will definitely be selling out fast.
Ramee Palace F1 Offer (starting 22 BD)
View this post on Instagram
This hotspot has amazing F1 offers for you and the fam to get in on. Located in Juffair, this spot is close by to all the bars and lounges you might want to hang out after the race. Starting from 22 BD, this place will give you a run for your money!
Sofitel Brunch offer
View this post on Instagram
Sofitel is located literally 10 minutes away from Bahrain International Circuit, so you would barely have to worry about transport or getting there late. Wake up and enjoy a lovely breakfast at this beautiful hotel before you head on over for the race. They're even having a competition to win a brunch for two before the races! 👀
Hilton's F1 party (2 BD)
View this post on Instagram
Hilton is officially hosting a party for just 2BD/net and it's the perfect way to get into the F1 spirit 🙌. Dress your best, bring along your friends, and party away!
F1 party at Four Seasons Bahrain
View this post on Instagram
Bahrain's favorite Four Seasons Hotel is hosting an F1 party on Thursday, March 2 at the Beach Deck. There'll be a  dance performance, aerial show, and live tunes to accompany you while you enjoy their grill. Party starts at 8pm, so hurry quick because early bird tickets (first 100 tickets) are selling for BHD 18 net per person! The remaining tickets will go for BHD 28 per person.