Latest
The Streets Of Bahrain Lit Up This Weekend For Saudi National Day
It was quite a happening weekend these past few days as Bahrain celebrated Saudi's 92nd National Day
Saudi National Day celebrated in Bahrain pic.twitter.com/bF8VsvR4uN

— Eliana (@Eliana05875127) September 23, 2022
The streets of Manama had turned completely green as iconic buildings like World Trade Center, Financial Harbor, Bahrain's Four Seasons, Bab Al Bahrain, and many other locations on the island were lit up in green and white. Many Saudis had also driven over from Al-Khobar to celebrate the special day. Areas around Seef and Manama were PACKED as people swarmed the streets to drive in their totally decked out cars, waving the Saudi flag all night!
Cars were seen decorated with Saudi flags, pictures of King Salman, and even artistic pieces to showcase the neighborly alliance between Bahrain and KSA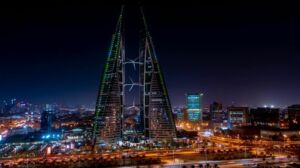 Famous places like City Center Bahrain, Dilmunia Mall, Bahrain Bay, and many other locations had special events, parades, and performances planned for the night. It was an enjoyable time for all Saudis and Bahrainis to come together and enjoy.
Bahrain even inaugurated a monument to honor the Kingdom's National Day