Community
Nine Million Of Egypt's Population Is Not Egyptian, So Where Are They From?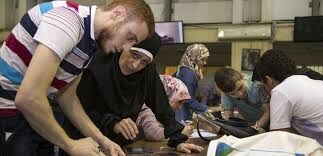 It's no surprise that Egypt is home to a diverse population from around the Middle East and Africa, and some places even beyond. According to a report released on Sunday by the International Organization for Migration, 8.7% of Egypt's population is not of Egyptian descent.
Nearly nine million migrants live in Egypt, and 80% are from just four countries
According to the report, there are 4 million from Sudan, 1.5 million from Syria, 1 million from Yemen, and 1 million from Libya.
According to the IOM, the average age of migrants in Egypt was 35 years old, with a roughly equal number of men (50.4%) and women (49.6%). So where are they primarily living? Let's break it down.
Five governorates are home to the majority of 56%, which live in Cairo, Giza, Alexandria, Damietta, and Daqahleya.
Then, the remainder are living in Assiut, Aswan, Gharbia, Ismailia, Luxor, Matrouh, Menoufiya, Minya, Port Said, Qaliubeya, Qena, Red Sea, South Sinai, Sharqiya, Sohag, and Suez.
The data showed that 60% of migrants living in Egypt are well-integrated have been living here for more than 10 years, that accounts for about 5.5 million people.
The data also showed that 37% of migrants in Egypt have steady employment, demonstrating their positive impact on the labour market and economy.
For instance, among the top nationalities that favourably impact the Egyptian labour market and economy are Syrians, who make up 17% of the migrants in Egypt.
30,000 Syrians are officially registered investors in Egypt, with a total investment of around USD 1 billion.