Latest
Here Are The 7 Fan Villages You Could Stay At For The World Cup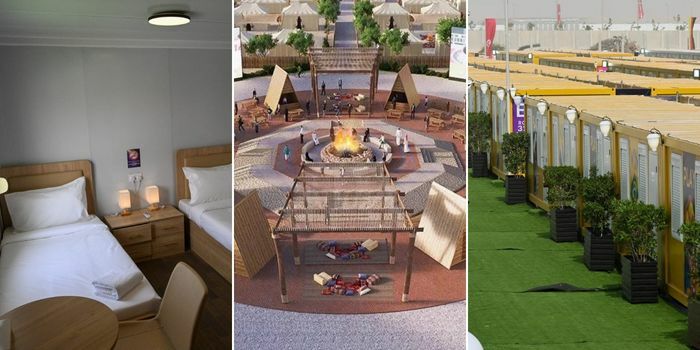 The FIFA World Cup Qatar 2022 is just around the corner and fans are either finding fan zones in their city, booking Airbnbs, reserving hotel rooms in Doha or trying to figure out the whole Fan Village situation.
If you don't know where to stay during the World Cup season, consider the Fan Villages because most other options are wickedly expensive right now.
Here are the 7 Fan Villages you might wanna stay at during the World Cup because everywhere else is getting pricey
The most affordable option of the Fan Villages is the Caravan City
The Caravan City is located in Al Messila, just 3km west of the Corniche and close to public transport. 6 of the FIFA World Cup stadiums are within a 20-minute drive from this Fan Village.
Prices start at QAR407 or USD 114.05.
View this post on Instagram
The second most affordable options are the Fan Village Cabins
There are 3 Fan Village Cabins; the Free Zone, Rawdat Al Jahhaniya, and Zafaran.
The Free Zone cabins are 6km west of the airport, close to public transport and within reach of FIFA World Cup stadiums. The Rawdat Al Jahhaniya cabins are located in direct proximity to the Mall of Qatar and Ahmad Bin Ali Stadium. As for the Zafaran cabins, they're located north of Lusail city so close to the action and in close proximity to Al Khor Coastal Road and Lusail Stadium.
Prices start at QAR740 or USD207.36
View this post on Instagram
The luxurious side of the Fan Villages can be found in Al Khor and Sarab Camp by The Torch
Fan Village Al Khor gives its residents an Arabian camping experience that both reflects and encompasses the traditions of Qatar. This luxury stay is on Farkiah Beach, making it 40 minutes away from the heart of Doha.
Prices start at QAR 1,512 or USD 423.69
Fan Village Sarab Camp also gives that traditional Arabian camping experience but with modern touches. It's located on Sealine Beach in the Mesaieed district of Doha.
Prices start at QAR 1,212 or USD 339.63
Note: The final Fan Village Heenat Salma Farm is already fully booked!