Latest
Qatar's Skydiving Team Makes Their Fourth Guinness World Record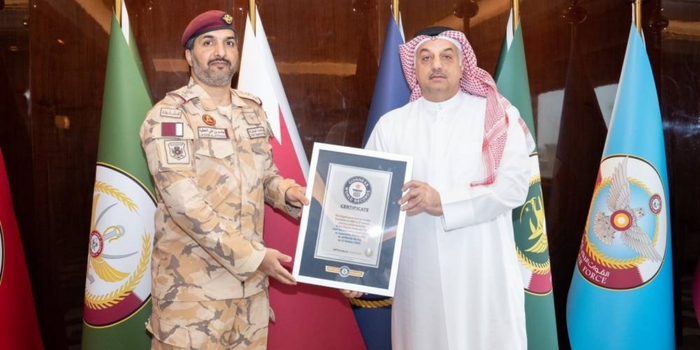 With 37 parachutists representing Qatar at the competition in Florida, USA, the Qatar Skydive Team broke the record for the largest parachuting canopy formation at night.
Qatar's skydiving team made their fourth Guinness World Record
Three Guinness World Records were broken by the Qatar Skydive Team previously, the first of which was set in 2018 at Deland, Florida, USA, when 25 parachutists broke the record for the largest canopy formation under the stars.
In Evora, Portugal, in November 2020, the team broke the record for the most parachuting sequences performed by a team of five.
In Zephyr Hills, Florida, USA, they broke the record for the most canopy formation four sequences in a full break huge formation for the third time in June 2021.
The awards ceremony for the Qatar Skydive Team of the Qatar Air Sports Committee of the Joint Special Forces breaking the world record for freestyle skydiving within the Guinness Book of World Records was held under the patronage of H.E. Deputy Prime Minister and Minister of State for Defense Affairs Dr. Khalid bin Mohammed Al Attiyah.