Latest
These Looks Stole The Show At The FTA In Doha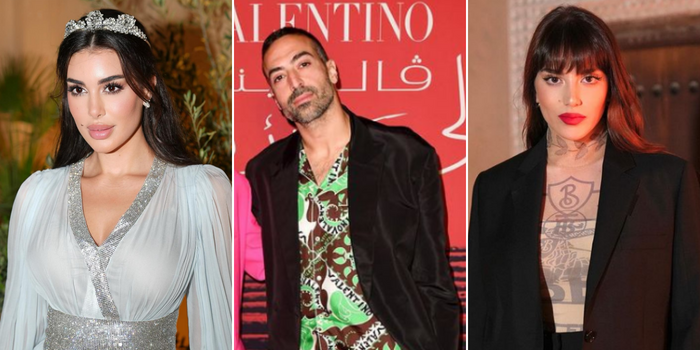 When it comes to fashion, these icons understood the assignment!
Here are 3 looks that came to slay, and didn't shy away when it came to making a bold fashion statement at the FTA 2022 in Doha.
Cynthia Sam slaying in classic Burberry
Less is always more and Cynthia Sam definitely understood the assignment!
Lebanese actress and influencer Cynthia Sam is known for her fashion-forward looks and this time was no exception.  Sam was spotted dressed in a classic ink black tailored Burberry suit, paired with a nude mesh turtle neck decked out with the Burberry emblem and branding.
The nude turtle neck mimics the look of second skin making the emblem and surrounding branding appear almost tattoo-esque.
She paired the outfit with a Medium sized quilted Lola bag in a complimentary maple brown shade and stunning pointed toe metallic brown pumps!
View this post on Instagram
Yasmine Sabri in Arabian princess vibes
Egypt's sweetheart slays once again in Dolce and Gabbana!
Actress Yasmine Sabri is known for fits that exude femininity and elegance, and this time she served just that with a dash of Arabian princess flare.
The simplicity of the teal chiffon princess-cut dress is contrasted with soft pleats, a blinged-out corset waist, neckline and wrist cuffs. She's also adorned with Cartier diamond earrings, ring and tiara to add to the royal vibe of the dress.
She finishes off the look with a matching blinged out silver clutch.
View this post on Instagram
Mo Al Turki looking sharp in Maison Valentino
Not one but two contrasting looks that definitely made a statement!
The CEO of the Red Sea Film Festival definitely made a lasting impression on the red carpet with not one but two striking looks. Al Turki was spotted in a Maison Valentino double breasted tailored black suit with a satin lapel paired with classic white sneakers for a laid back touch to the formal suit.
Al Turki's second look is definitely more daring featuring a brown and green satin set with the Valentino branding repeated diagonally across the design. He paired the look with a velvet black blazer and white sneakers to break the bold patterns of the set.