Advent Calendar 2021
Day 23: WIN A Turkey Takeaway Worth AED700 From Raffles The Palm Dubai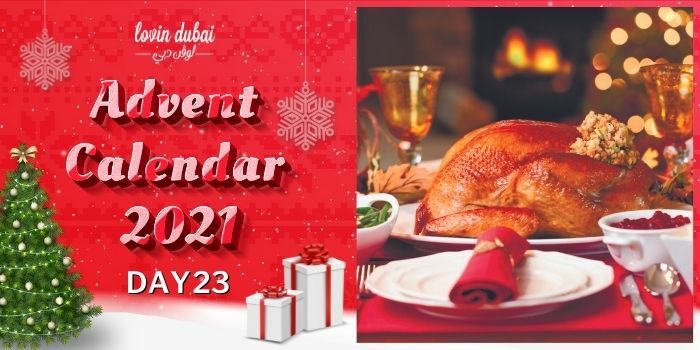 The Lovin Dubai Advent Calendar is 24 days of prizes. Tune in every day until December 24 for your chance to win one of 24 BIG prizes!
Round up the family at the dinner table for a festive feast unlike any other! What's better than a slow-roasted turkey with a medley of veggies and all the trimmings? The time you'll save by NOT cooking it!
Raffles The Palm Dubai is gifting you a turkey takeaway to enjoy with your fam this holiday season! An 8kg whole roast turkey served with stuffing, cranberry sauce and bread rolls… Amazing!
Answer the question correctly and you just might host the most incredible turkey feast, compliments of Raffles The Palm Dubai
Raffles The Palm Dubai have Christmas Brunches, Christmas Eve Dinners, and New Year's Eve Dinners galore to put you in a festive mood
There's nothing better than spending the holidays with your family and friends! Share the joy of the holiday season with festive treats, courtesy of Raffles The Palm Dubai!
Enjoy a festive meal, prepared by the award-winning chefs, in the comfort of your own home with Turkey Takeaway!
Blüthner Hall is cooking up a slow-roasted turkey accompanied by a delectable medley of roasted veggies and all the trimmings. Just remember to pre-order 72 hours before your grand lunch and pick it up from Blünther Hall from 11am – 6pm every day until December 30 and from 11am – 2pm on December 25 only.
Turkey Takeaway started from AED550! View the Takeaway Tukey menu here.
The festive deets
For more info, click here and to reserve your spots, call: +971 (0)4 248 8888 or email: dining.thepalm@raffles.com
Located in West Crescent – Palm Jumeirah.
Pick it up between 11am – 6pm every day from Blünther Hall until December 30! On December 25, pick up is only between 11am – 2pm.