Announcements
Here Are 9 Ways To Make Your Weekend EPIC!
The weekend is almost here and if there's one thing you don't need to stress about it's making plans coz we've got you!
Here's a list of things for all you lovely people to relax, unwind, let loose and make it an EPIC weekend!
9. Take a swing into the perfect weekend with Bedrock
Bedrock has got your weekend plans all sorted. This sports bar gives you the chance to enjoy golfing with only the best clubs from their collection in the Bunker. It's the perfect place to hang out with your friends and experience their latest indoor golf technology. You won't be disappointed!
Where? Marina Pier 7
View this post on Instagram
8. 50% off on All Cutting Edge services
Cutting Edge Ladies Salon has the BEST deal for you! All their services and pampering at half price till the end of the month!! Sounds too good to be true? Well, it's true! Don't miss it, ladies book an appointment ASAP!
Where? Jumeirah Lake Towers, Marina and Ibn Battuta Mall
When?  50% deals last till August 31
Time? Monday to Thursday, 10 am to 4 pm
For more deets click here
View this post on Instagram
7. Hive fun with 10% off at this boardgame cafe!
Stay buzzing with excitement at Hive for their collection of fun boardgames, delish food and most of all their sweet deals ! Your hive memories don't have to stay hidden in your phones anymore instead post a story of your fav game on Instagram and tag Hive, they'll surprise you with a 10% discount!
Where? The Hive, Onyx Tower 1, Sheikh Zayed Rd
View this post on Instagram
6. Turn up the heat with Wavehouse
It's all spice and everything nice down at Wavehouse! The restaurant has curated a special 'Heatwave' menu filled with all their hottest creations…and it's perfect if you're looking to prove just how tough you are. While you're there, top up on the fun with their very cool activities, we're talking bowling, arcade, and surfing!
Where? Wavehouse, Atlantis, The Palm
When? Till August 30
View this post on Instagram
5. Dine like royalty at Caesars Palace, Dubai
Head on down to Caesars Palace for a feast like no other. Lost on where to start? Check out the starters at their Michelin-listed restaurants of course!
Transport to Italy at Venus Beach Club & Restaurant, and feast on incredible dishes at the Michelin-listed Demon Duck. Hit up the iconic Hells Kitchen and dance the night away at Havana Social Club. Don't worry about kids below 12, as they get to dine for free per paying adult. If you like where this is going, it only gets better down at the Palace!
Where? Demon Duck, Hells Kitchen & Havana Social Club
What? Early Bird Dining Offer: 30% off
When? On Weekdays between 6-8 pm
View this post on Instagram
4. You know what time it is? Its TACO TIME!
If you love Mexican food this is a VERY IMPORTANT season & Not summer, we mean It's TACO FESTIVAL season ! Hold on to your sombreros because you're going on a wild journey- expect mexican street vibes accompanied by delicious flavor filled tacos. Be prepared for sensory overload
Where? La Tablita Dubai
When? Till the end of the month
Time? 6 pm to 11:30 pm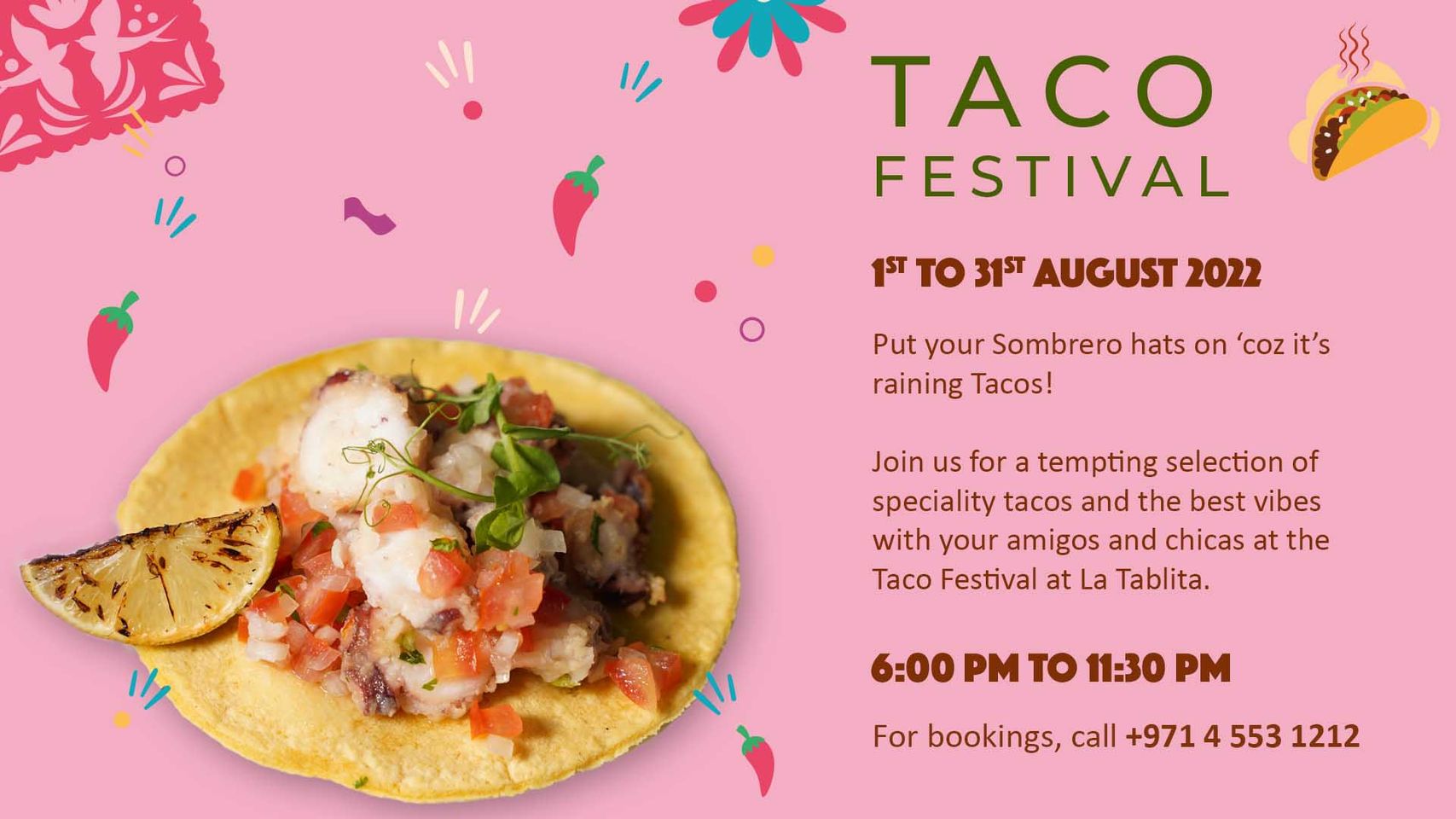 3. Get the full Premiere League experience in JBR
Catch up on all the premier league games and support your teams playing while watching on the biggest TV screen in JBR!  Even half times are gonna be thrilling while you slurp on exotic drinks and feast on yum food!
Where? Offside
When? Saturday 3:30 pm to 5:30 pm
View this post on Instagram
2. Test your bargaining skills at this indoor flea market
Festival Plaza bringing you their indoor flea market is the best thing ever! You can go hunting for all your favorite things here in comfort. Shop till you drop!
Where? Festival Plaza
When? Sunday, August 21 11 am to 6 pm
For more deets click here
View this post on Instagram
1. Get ready to shed tears of gold with Faouzia!
It's going to be a night to remember! The incredible Moroccan Canadian pop star is all set to light up the stage this Sunday with an iconic show for her UAE audience. It's gonna be one for the books, so make sure you don't catch FOMO on the night and get your tickets ASAP before they run out!
Where? The Agenda in Dubai Media City
When? Sunday, August 21
Get Faouzia tickets before they're sold out here
View this post on Instagram