Best Of Dubai
Spice Up Your Weekend With These Jaw 9 Dropping Offers And Events in Dubai!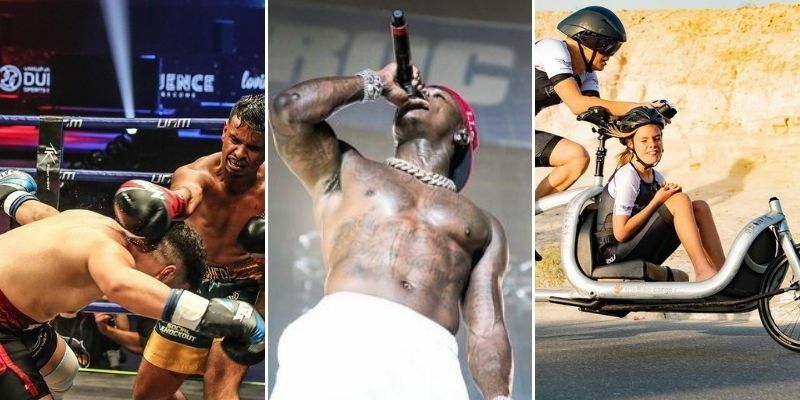 Helllloooooo beautiful weekend, the 48 hours you've got to do whatever the blip you want!
What's better than indulging in amazing events this weekend after having a long weekday?! And even better it's all in Dubai, where after one spectacular experience comes another! Scroll on down for more deets!
Can you feel it? The city is back and booming and here are all the fab things happening this weekend!
9. Get a fab 25% off of tickets for families and friends at La Perle!
Friends and family, La Perle is calling your name with this deal! The show that captures your heart like no other is tempting families with a fab 25% off when you book four or more tickets!
For an unbeatable show that features best-in-class performers, look no further.
Where? La Perle, Al Habtoor City
See here to nab the offer and get more deets!
View this post on Instagram
8. Hit the opening party of the world's biggest floating nightclub
When was the last time you did something for the first time? As making your imagination travel miles to think about new experiences don't forget to add this one to your bucket list!
Float Dubai is a fusion of past, present and the future. Embodying the magical old-school energy of nightlife, Float delivers a unique space in the present onboard the Queen Elizabeth II, a vessel steeped in the history and culture of the past, and deploys technologies of the future to guarantee an experience you won't forget! enjoy award-winning DJs, experience world-class entertainment and behold panoramic views all in ONE place! For more deets check out their website.
Where? QE2
When? Open on Thursdays, Fridays and Saturdays
Have any question? Simply contact +971 54 711 1171
View this post on Instagram
7. Watch The Social Knockout 2 live at The Coca-Cola Arena this Friday
The gloves are off and the artists have landed, the TK Fight Night Social Knockout 2 is kicking off this Friday and it's gonna be huge!
Where? @cocacolaarena and powered by the amazing @koko_swap!
Featuring fights and tunes from US Rap megastar DaBaby and UK Rap legend Giggs
View this post on Instagram
6. Support participants in the Roy Nasr Memorial triathlon
The Roy Nasr Memorial Triathlon is in memory of Roy, who co-founded TriDubai and was tragically killed by a motorist whilst riding his bike near Safa Park in 2013.
Each year, the ride community comes out in droves to remember Roy, and you can catch them this Friday.
To know more: https://raceme.ae/event/roy-nasr-memorial-triathlon/
View this post on Instagram
5. Emaar Dubai Mall "Shop Now Pay Later"
The Dubai Mall did it again! Coming up with amazing deals for customers. Enjoy 0% interest* when you Shop Now & Pay Later with your Emirates NBD credit card in not only one but across all brands at The Dubai Mall! Now that's a must-visit. With the festive season fast approaching, there's no excuse to miss out on the perfect gift for you or a loved one with this exclusive offer.
Shoppers can make payments in installments over 3 to 6 months when shopping across their all time favorite brands, including the most luxury and designer brands! with their Emirates NBD credit cards.
Where? The Dubai Mall
When? 7 Oct to 31 Dec 2021
Have any further questions? Easily contact +971-4-362-7500 or visit the Dubai Mall website.
View this post on Instagram
4. Gamers get yourself to Times Square Center for High Score Con 2
Get ready for a unique experience at Times Square Center Dubai where shopping made easier and more fun! Having more than one destination which offers an original selection of well-known and international and boutique brands! Adding to that the High Score CON2 taking place in three days only! Don't miss out.
Time Square also offers a well-rounded, intimate and social family encounter with a broad-spectrum range of shop personalities, complemented with a weekly artisan market. Times Square has MANY brands such as Sharaf DJ, Adventure Head-Quarters, BiOrganic, Chill-out ice Lounge and Toys R US! Now that's what we're talking about.. Did we mention that on weekends you get to enjoy the well-known, quality local community markets; The Ripe Market, Baby Bazaar and Arte – The Maker's Market? Well add that to the list and checkout their website!
Where? Times Square Centre
When? Open Daily 10:00am – 10:00pm
Any further questions? Contact +971 4 341 8020
View this post on Instagram
3. Soak up the rays at your own private pool at Arjaan Dubai Media City
Located in the heart of Dubai Media City, Arjaan by Rotana Hotel offers 242 rooms, suites, studios and apartments including 18 units with a plunge pool! Not only where parents get to relax, but kids get to hop into the swimming pool and have the time of their lives!
Thought we were done? Naah there's more! The hotel offers 6 meeting rooms, a fitness center, spa and a temperature-controlled swimming pool for adults and children! Not to mention that the promotion for Premium Suites with a private pool offer is valid until the end of October, so hurry up and book NOW!
Premium room with pool rates from AED999
Where? Arjaan Rotana hotel by Dubai Media City
For more info contact: +971 4 436 0000
View this post on Instagram
2. Travel the world at Expo 2020 Dubai
When the world comes together, we create a better tomorrow. Join us in Dubai as soon as you can in being part of the greatest event of all time, EXPO! Where enjoyment has no limits, discovery is insanely exciting, and delicious cuisines everywhere to treat your taste buds while getting to know more about different cultures all in one place! Get the opportunity to literally travel the world with your favorite company in ONE DAY! Join the making of a new world NOW.
Where? EXPO 2020 Dubai
When? Until March 31
View this post on Instagram
1. Watch the Jollibee Spicy Chickenjoy Challenge
Foodies this belongs to you! Especially spicy food lovers you're going absolutely LOVE this! As one of your ALL times favorite restaurants Jollibee presents a spicy challenge! That's right where all you need is an empty stomach, your favorite company and a timer on your phone if you want to win this! Not only that you get to indulge in a mouth-watering meal but get the chance to a GRAND PRIZE worth AED10K! Check out this website for more info!
Where? Jollibee Spicy Chickenjoy Championship in Al Ghurair Centre
When:  October 14, from 7pm – 10pm
View this post on Instagram