Latest
7 Spots To Tick Off Your Bucket List Now That Travel Is Back On Track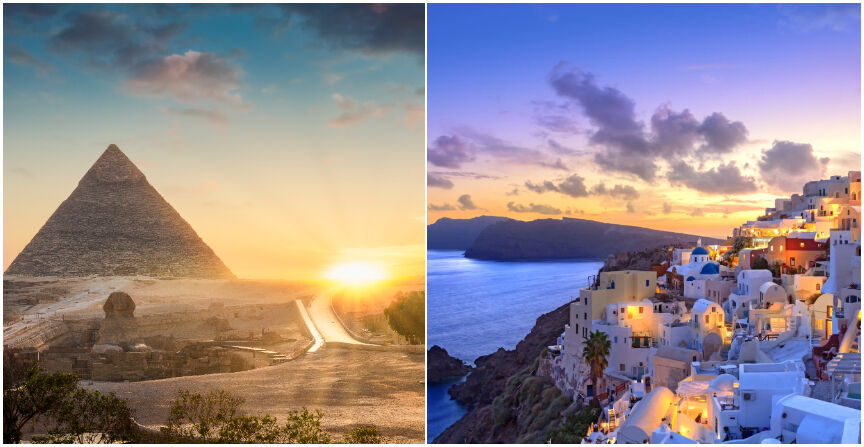 7 Spots To Tick Off Your Bucket List Now That Travel Is Back On Track
It's been a long time coming, almost two years of not being able to travel and explore the world we love. But alas, we've finally come to a middle ground of being able to fly away (safely, of course) and reignite the fire that's been brewing inside us. Marriott Bonvoy is giving us the inspiration to get there with 30 incredible hotel brands across the globe, the travel options are literally endless!
For many, travel means more than just seeing new places but is a way of feeling truly free, connected to the planet, being present in the moment, getting to know oneself AND ticking off those life-long bucket lists. 
With 30 incredible hotel brands and endless experiences across the globe, Marriott Bonvoy can help take you there, whatever your dream destination might be. 
We've all been itching to travel again and to start marking memories, we're pretty sure of it, so here are some of our favourite bucket list destinations to get you inspired
Some you should keep in mind for YOUR next trip!
1. Visit the pyramids in Cairo or the Valley of The Kings at Luxor
There's nothing like walking the very steps of the pyramid builders of Giza. You just feel the energy and history that has taken place with every step inside of every tomb you take. Be prepared to have your breath taken away with these awe-inspiring wonders.
The ancient Egyptians believed that their pharaohs became gods in the afterlife and you can really feel this reflected in the sheer magnificence of these structures. Afterwards, feed your thirst for history even further with a trip to the Egyptian museum followed by indulging in some incredible local cuisine like Koshary.
Not to mention if you take a drive to or fly to Luxor where you can see the boy king, Tutankhamun's tomb in the Valley of the Kings. It's all so magical.
Stay at St. Regis Cairo, rising tall on the banks of the River Nile. Located at the North end of the Corniche it's in the heart of Egypt's bustling metropolis providing easy access to the magnificent monuments of a city steeped in history.
View this post on Instagram
2. Go snowboarding in the Swiss Alps
Winter is the perfect time to make your dreams of snowboarding come true and there's NO better place than the Swiss Alps.
The scenery is INCREDIBLE and whether you're a newbie learning to snowboard or you're a seasoned pro looking for an adrenalin rush, there is nowhere in the world more stunning to do so.
After an exhilarating day on the slopes, treat yourself to an indulgent hot chocolate at après ski, or enjoy a relaxing trip to a spa. DREAMY! Fancy a break from the slopes? No problem, explore the beautiful alpine villages, stunning cascading waterfalls or take the cable cars up to the Mont Fort glacier for truly breath-taking views. 
Stay at W Verbier, a perfect scene for thrill-seeking mountaineers, adventurous riders and fashionistas.
View this post on Instagram
3. Ride in a hot air balloon in Cappadocia
A 1-hour hot air balloon tour with the Cappadocia sunrise and your gram is set for life! The view, the perspective, the experience… it's a sight to behold and a memory to cherish – making it such a unique addition to everyone's bucket list.
Not only that, but Cappadocia is just a short flight from Istanbul! A fab option for those on a short trip or those who want to combine their break from the city with some exploring of historical Istanbul sites and mosques.
While you're there you can stay at The Ritz-Carlton Istanbul for a luxurious vacay with a Bosphorus view in the heart of Istanbul.
View this post on Instagram
4. Take a romantic gondola ride in Venice
Riding in a gondola is one of the most quintessential things to do in Venice.
What's more, there's nothing more picturesque than this, the JW Venice Resort and Spa below is dubbed 'One of the most spectacular hotel arrivals in the world'. 1000% dreamy vacation!
View this post on Instagram
5. Go island-hopping in Greece
From Mykonos to Santorini or Crete and Corfu – Greece's many different islands serve a multitude of different vibes. Whether you're in the mood to unwind, escape the noise or to PARTY hard – there's truly something for every type of traveller.
Stay at the Domes Zeen Chania, a Luxury Collection Resort in Crete, it's the definition of the bohemian luxury situated on the north coast of the island.
View this post on Instagram
6. Go on a safari in South Africa
See the wildlife in its most authentic form, truly an experience that is indescribable to the human eye. Or at least those who do not live in Africa.
Stay at the Protea Zebula Lodge, located on 1100 hectares of pristine bush-veld in the shadow of the Waterberg mountains, a most spectacular setting.
View this post on Instagram
7. Take afternoon tea at a London hotel 
Afternoon tea is a British tradition and something that must be experienced when visiting London. This iconic and luxurious British institution involves sipping on tea whilst enjoying a selection of delicate finger sandwiches, pastries, and scones.
Experience this surrounded by the grandeur and history of the iconic St. Pancras Renaissance Hotel London originally opened in 1873 or at the London Marriott County Hall with views spectacular views of the River Thames and Westminster Bridge. Literally, feel like British royalty for the afternoon!
View this post on Instagram
Where can we take you?
The power of travel is strong and it affects perspective, mostly in positive ways and Marriott Bonvoy believes in this power. Explore, have fun and EXPERIENCE all the good this planet has to offer through experiences, meeting new people and getting to live the lives of others. 
Marriott Bonvoy has over 30 incredible hotel brands across the globe including The Ritz-Carlton, W Hotels, Westin Hotels and Resorts, Le Meridien Hotels and Resorts, Aloft Hotels and Courtyard by Marriott.
Join the Marriott Bonvoy Loyalty Programme at zero cost and become a member with exclusive benefits such as member rates, mobile check-in, free Wi-Fi and redeem points for FREE nights, flights and so much more!
Join here, and download the app here on Apple/Google Play
#TravelMakesUs #MarriottBonvoy