Community
Chris Hemsworth Was In Dubai And Fans Couldn't Stop Gushing!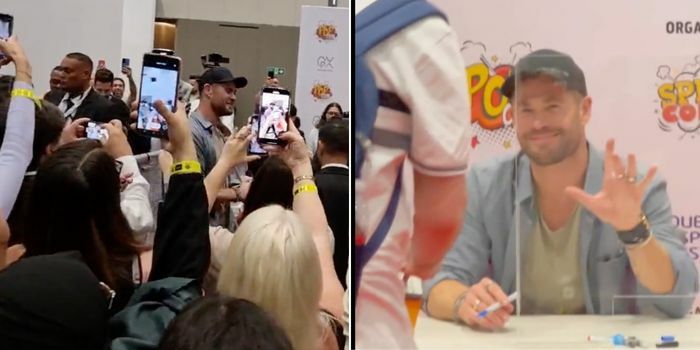 Who wouldn't want to have a meeting with the God of Thunder? Especially if said God was Chris Hemsworth!
Chris Hemsworth was in Dubai for an event yesterday and fans were very excited to meet the actor
He was in town for the Pop Con Middle East conference that is taking place until tomorrow at the Expo City Dubai.
Actor @chrishemsworth was spotted at the Pop Con event at Dubai Expo City, yesterday.
What are you waiting for?! Check out all the action at the Dubai Esports Festival happening from 9th-20th November 2022! 🎮 @PopConTweets @DubaiGamingHub #VisitDubai pic.twitter.com/ulKLCRJopT

— Visit Dubai USA (@VisitDubai_US) November 12, 2022
All the "Oh My Gods" and the screaming… a typical fan encounter
Well @chrishemsworth is finally here at the convention in Dubai. pic.twitter.com/KL7m5c570r

— Kevin Sebastian (@NoxVoyager) November 11, 2022
Luxor to Cairo to Dubai just for Hemsworth, now that's dedication!
Got us all with the wordplay too!
Had to go on 2 flights from Luxor to Cairo to Dubai and saw Chris Hemsworth all in one day and boii, it was all hemsWORTH it 🤍✨ @chrishemsworth 🤍

My boyfie be really happy tho and so am I cuz he waved back at me when my bf said I was at the back hihi 🥰 pic.twitter.com/BXCKVqm7fq

— 🎀 Patchei ✨🦋 (@KeiRacion) November 11, 2022
Our only advice to this user would be…Habibi come to Dubai!
My friend who lives in dubai j met chris hemsworth IAM GONNA CRY WHEN I CAN BE THIS LUCKY????

— mehzill‼️ (@yochaoticbitch) November 11, 2022
This would have been a great occasion to use up those pending leaves don't you think so?
Thor is in Dubai… i mean Chris Hemsworth..and i was at work 😩

— 𝚎𝚕𝚕𝚎𝚗 ᵒʳ ᵇⁱᵐ🍒 (@yeolips29) November 11, 2022