Latest
"I'm So Used To The Mask Already…. I'll Keep It On!" Dubai Reacts To Removing Masks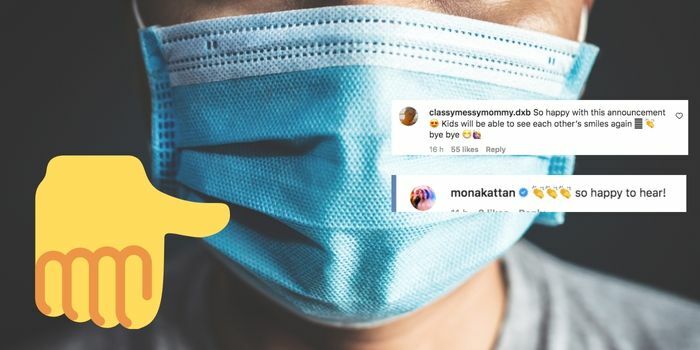 Rejoice!
The NCEMA announced that the UAE is officially saying goodbye to masks residents have the option to wear masks in open and closed spaces
In a press briefing yesterday, the loosening of laws was announced as the situation is stable, COVID19 cases are declining and deaths are nearly zero. With that, the daily announcements of COVID19 cases will no longer be published, however, the data will still remain on official websites.
Students and faculty of the education sector are no longer required to wear masks on campus. But there are some exceptions, masks are still required in hospitals, public transportation and places of worship. Those who are vulnerable should also continue to mask up.
For two years, residents have steadfastly worn facemasks to protect against an invisible illness. And while the majority are rejoicing at the prospects of removing masks, the reaction is really a mixed bag, with others slow to celebrate the decision.
Masks are coming off, but smiles remain compulsory
From September 28, face masks are no longer mandatory for private schools, early childhood centres, universities & training institutes in Dubai. Smiles remain compulsory. https://t.co/MikiYJeWJ0

— KHDA | هيئة المعرفة والتنمية البشرية بدبي (@KHDA) September 26, 2022
"I'm so used to the mask already…. I'll keep it on!"
olivernakakande shared that she's so used to the mask, she'll keep it on. The comment has 26 likes, and one commenter agreed, adding:
biancaharkopf said,
"I got sick literally every week before we started wearing masks, then almost 2 years nothing and then Covid…I'll keep my mask on in the Mall…"
"Kids will be able to see each other's smiles again"
Mona Kattan of Huda Beauty is delighted with the news, she commented, "👏👏👏 so happy to hear!"
While many parents shared the joy that the rules surrounding masks have lifted,
classymessymommy.dxb
said, "So happy with this announcement 😍 Kids will be able to see each other's smiles again 🥰👏 bye bye 😷🙋🏼‍♀️"
Watch The Lovin Dubai Show: No More Masks For UAE Residents