Dubai
Social Knockout: MoneyKicks Won The Main Event As KSI Calls Out Adam Saleh After His Draw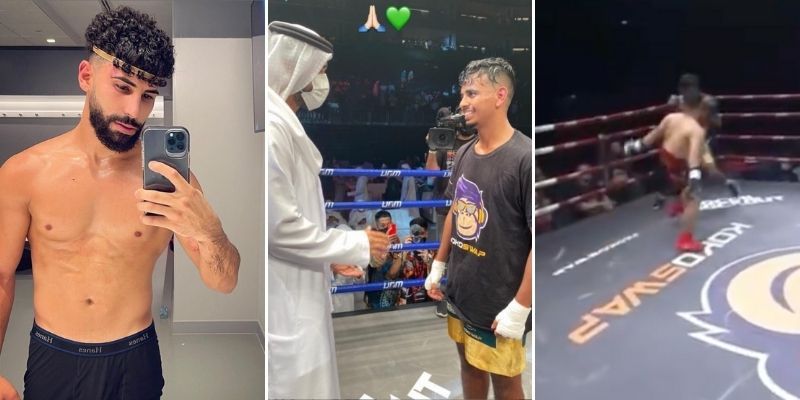 Social Knockout: MoneyKicks Won The Main Event As KSI Calls Out Adam Saleh After His Draw
Social Knockout proved to be a hit, with hundreds of influencers' fans who came to the Coca Cola Arena to catch the BIG match.
Rashed Belhasa, aka MoneyKicks, stole the show by winning the main match against Anas Alshayb.
The big crypto-currency only match SOLD out and many events transpired, but it's best we show you just how.
The lead up to the event saw many celebs and influencers in the region coming together to catch the first influencer fight in the Middle East
View this post on Instagram
The night kicked off with fabulous performances from Gurundhawa and rapper A Boogie Wit A Hoodie
The first fight welcomed MMA fighters Kagimu vs Aminov as they proceeded to do a ring walk for Bout 1
As with any boxing competition, the winners of that round was announced soon after!
Soon after, King Anubis and Hamza Yamadev were announced as the fighters for Bout 2
Performance breaks! After the first two bouts, Indian music sensation Gurundhawa and Boogie Wit A Hoodie each performed a few songs in between
Talk about a production like no other!
The venue was jam-packed with excitement from the audience to the MMA fighters and YouTubers alike!
Even boxing legend Prince Naseem Hamed was amongst the crowd, watching it all unfold.
View this post on Instagram
Bout 3 was the beginning of the YouTuber fight series, which started with Mohammed Khalid versus 3bidaan
Walid Sharks went up against YouTuber Adam Saleh
View this post on Instagram
…of course, his sister (one of the Middle East's most subscribed-to YouTuber) Noor Stars was also present
In full support!
Adam Saleh won the bout in a draw which led Sharks to announce post-match that he 'clearly won the fight but they somehow called it a draw and robbed me,' adding that it's okay, since 'everyone knows who the real winner is.'
The final match was between Rashed Belhasa versus Anas Elshayb – resulting in Moneykicks' glorious victory!
View this post on Instagram
The two had THREE rounds resulting in a draw, claiming MoneyKicks as the winner of the fight
Woot woot!
View this post on Instagram
Music artist KSI roasted Adam Saleh soon after his match claiming "there's no way Saleh could hope to take him on after being beaten by a 'kid'
…to which Saleh responded saying, "You don't even know how to fight properly! I fought an actual fighter! I dare you to fight a real boxer your weight!"
Hmmm, do we see a future match on the way?
Only time will tell.