Community
The Hot List: 10 Things To Do This Weekend!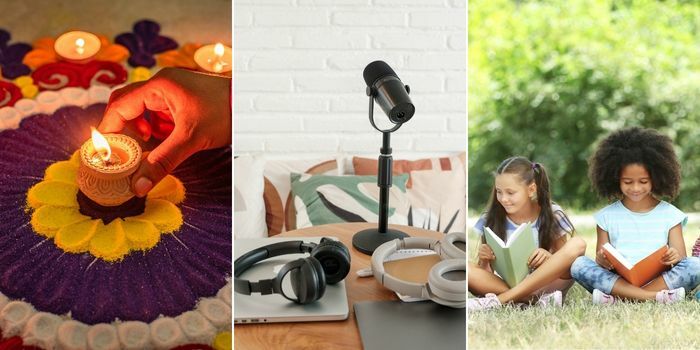 It's the WEEEE!!-kend and this one is especially exciting for those who work on Saturdays because you get a day off too!
So without further delay,
Keep scrolling to see how you can make the most of your two-day extravaganza!
Also read: No Long Weekend For Private Sector Folks In The UAE Until December
10. It's Desi Beatz night at Vice Club
Groove all night to Bilal Saeed's Adhi Adhi raat and Teri khair mangdi and Afsana Khan's Titliaan and Dhokebaaz!
The duo will be on one stage this DESI BEATZ night
Where? Vice Club- Ramee Dream Hotel, Downtown Dubai
When? Saturday, October 8!
Time? 10 pm onwards
View this post on Instagram
9. Go get a check-up for breast cancer!
It's October which means Breast cancer awareness month. The infamous Pink Caravan is taking its state-of-the-art Mobile Medical Clinic and minivan clinics across the nation.
Use this opportunity to go get free screening and consultation with the experts throughout the month of October. There are several check-ups happening throughout the month.
Where? Mirdiff City Center
When? Saturday
Time? 4 pm to 10 pm
View this post on Instagram
8. Cana by Tamoka is now open!
The weather is getting kinder and your favourite beach-side palapa bar is now open! So if you're looking for something fun, unconventional and witty, you know where to head.
Where? Al Mamsha Street The Walk, JBR
Time? 12 pm till 10 pm
View this post on Instagram
7. Get the low down on the podcast world with Sada 22
Planning to start your own podcast? Do you already have your own podcast?
Kerning Cultures and mstdfr are co-hosting Sada, an intimate, community-driven event pushing the conversation on podcasting in the region further. Don't miss out on a day of interactive panels with Mohtwize, Rising Giants, Sowt, Sarde After Dinner.
They'll also have an afternoon of more intimate breakout sessions with other podcasters and opportunities for 1-on-1 sessions with network executives.
Register for free here.
Where? Jameel Arts Centre, Jaddaf Waterfront
When? Saturday, October 8
Time? 1 pm to 7 pm
View this post on Instagram
6. Get a head start on your Diwali shopping with the Diwali market At Festival Plaza
Diwali, also known as the 'festival of lights,' will be celebrated at the Festival Plaza with a full-fledged Diwali Bazaar and a range of exciting activities, entertainment, competitions and workshops.
The market will feature an array of fashionable garments, accessories, worship items, home décor and food options too!
Where? Festival Plaza, Jebel Ali
When? Till October 30
Time? 12 pm to 10 pm
View this post on Instagram
5. Revel in celebrations as Reform Social & Grill turns 9!
The summer tent is down and the outdoor area is now open once again. Time to dine alfresco and soak up the cooler weather with a few cold drinks. It's official folks – winter is coming!
Here's what else you can look forward to in their packed birthday schedule:
An unbelievable AED 9 drinks offer – From Monday 3 to Thursday 9 October, your first drink will cost just 9dhs.
Reform's big birthday comedy night-  On Thursday 6 October, it's time for a birthday-themed evening of comedy.
9-hour happy hour – Instead of the usual 8-hour happy hour, on Friday 7 October it's set to be extended by one whole meaning you'll have a 9-hour window to enjoy discounted drinks.
Twilight birthday brunch- The first outdoor brunch of the season is happening on Saturday 8 October, starting at 4pm. Expect British classics, oink favourites and loads of options for the kids including arts & crafts and face painting! The birthday brunch will also coincide with the opening of the Botanist garden bar with botanist gin cocktails.
An epic Sunday roast for just AED99 – With birthday celebrations culminating on Sunday 9 October, you can enjoy a roast with all the trimmings for just AED 99!
View this post on Instagram
4. Geek out at Festival X- where Arts, Science, and Technology intersect!
Robots, Satellites, AI- so many terms to make sense of as we step into a crazy future that's gonna be filled with them. There's no better way to understand them than through art!
Where? Alserkal Avenue
When? Friday, Saturday, Sunday- October 7, 8, 9
Time? 10 am to 10 pm
View this post on Instagram
3. There's a cute community reading club for kids happening at Al Qusais!
The weather is slowly heading into the optimal sweet spot where it's neither too hot nor too cold. So of course it's time to head out!
Join in with the kiddos at this sweet lil Book club initiative that's just begun.
Where? Al Qusais Pond Park
When? Sunday, October 9
Time? 5 pm to 6 pm
View this post on Instagram
2. Celebrate National Noodle Day at China Bistro
Noodles are everyone's favourite comfort food and China Bistro is giving you a reason to call your friends and fam over to catch up over a bowl of soulful noodles.
The award-winning Pan Asian restaurant is celebrating National Noodles Day with a Buy 2 Get 1 Free offer only on dine-in and on the noodles menu.
Where? Al Karama, Al Barsha, Discovery Garden, Dubai Studio City
When? Thursday, October 6
Time? 11 am – 12 am
View this post on Instagram
1. Raise funds for breast cancer with the IGNITE Pink is Punk Swim Run
The IGNITE Pink is Punk campaign is returning with a great athletic outing for the entire family at Anantara The Palm Dubai Resort. You can swim and run to show your support, raise funds and spread awareness for breast cancer.
Participants can enroll under the categories of individual or teams of two. There's also a 3km Fun Run for people of all abilities between the ages of 6-70, and an award for the best-dressed contestant. All proceeds from this charitable contest will be donated to Al Jalila Foundation.
Register here!
Where? Anantara The Palm Dubai Resort
When? Saturday, October 8
Time? 6 am onwards
View this post on Instagram
The Lovin Dubai Show- Weekend Hot List: 3 events to check out