Latest
146,000 Participated In The Dubai Run On SZR This Morning And The Pictures Are INCREDIBLE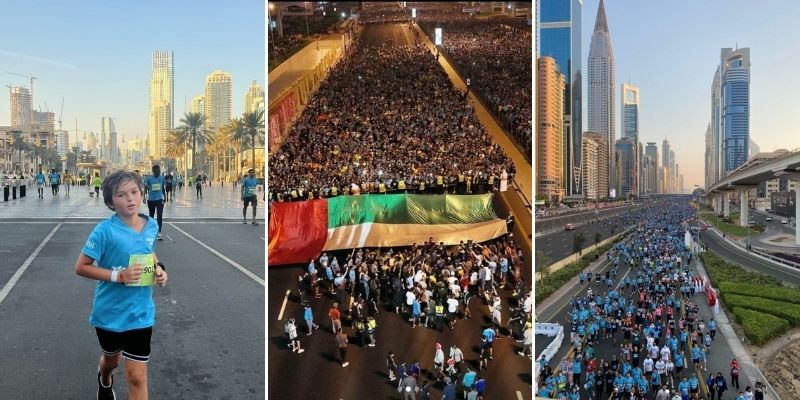 Annddd, that was one HISTORIC Friday morning!
Dubai-aites witnessed a traffic-free Sheikh Zayed Road as they put on their running shoes for the iconic Dubai Run. The Dubai Fitness Challenge's annual Dubai Run kicked off at 6:30AM.
View this post on Instagram
His Highness Sheikh Hamdan bin Mohammed, Crown Prince of Dubai, lead the way as thousands participated in the iconic Dubai Run this morning on Sheikh Zayed Road
 "As the Dubai Fitness Challenge reaches its closing weekend, it is inspiring to see the commitment of so many of our citizens, residents and visitors to their health and wellbeing. Running alongside 146,000 people who completed the Dubai Run today, I was moved by the strength of our community and seeing what we can achieve when we work together. By turning out in such numbers for Dubai Run, we have shown the world that this is one of the greatest cities to live in, work in and visit; a city with an unassailable spirit and ability to achieve. I'm immensely proud of each and every individual, government agency, business and organisation that took part today, and in the Dubai Fitness Challenge. I would also like to thank the organisers, government agencies led by the Events Security Committee, partners and everyone who contributed to the success of Dubai Run – a truly remarkable event, and a day to remember."  His Highness Sheikh Hamdan bin Mohammed bin Rashid Al Maktoum, Dubai Crown Prince and Chairman of The Executive Council of Dubai.
KrisFade and PritiMalik were the official run starters of the single biggest community run of its kind. 146,000 people registered for the 10km and 5km run this morning. What a sight this is!
View this post on Instagram
The event was for everyone- LITERALLY!!
The Dubai Run welcomed everyone and anyone! Occasional runners, People Of Determination, children, and experienced runners took part in the annual run.
View this post on Instagram
Participants picked between 5km or 10km routes. Both routes started off on Sheikh Zayed Road, next to the Emirates Towers Metro Station
View this post on Instagram
DFC encourages EVERYONE in the city to take part in 30 minutes of activity every day for 30 days. Learn everything you need to know about Dubai Fitness Challenge right here.
Learn everything you need to know about Dubai Fitness Challenge right here
Also Read: Dubai Fitness Challenge Has Kicked Off – Here's Everything You Need To Know