Announcements
IPL2020 In Dubai: Rajasthan Royal's OTT Jersey Reveal Has Left Indian Cricket Fans In A Frenzy Over Dubai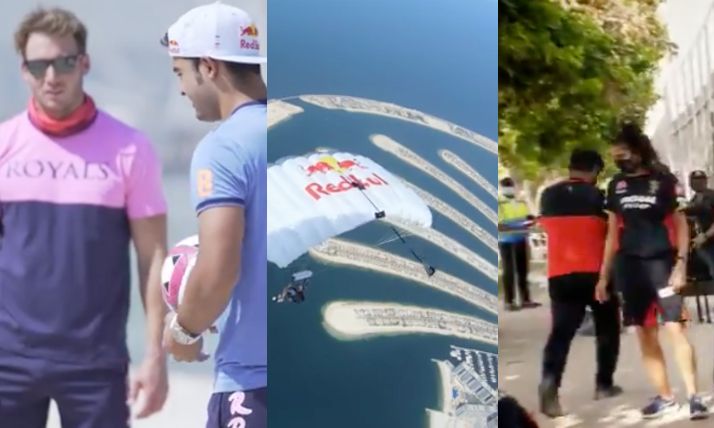 From Dramatic Jersey Reveals To HARDCORE Practise Sessions: IPL Teams Are Lovin Their Time Here In Dubai
Cricket fans can clearly tell via their recent feelgood social media posts that the two ROYAL IPL teams are undoubtedly LOVIN Dubai.
From Rajasthan Royals' OTT jersey reveal at the One & Only Resort, Royal Mirage to Royal Challengers Bangalore's hardcore practise sessions under the fierce Dubai sun – that RCB's left-handed batsman, Parthiv Patel described as,
Actually not bad, it's quite windy… was expecting it to be hotter but then it's good to be out in the sun.
The two teams are making the most of their downtime in Dubai ahead of the IPL T20 competitions.
RCB released a video that shows the squad breaking a sweat and gearing up for the 13th edition of the Indian Premier League as the franchise shows that they're innit to winnit!!
On the other hand, Rajasthan Royals served their fans an EPIC footage of their dramatic jersey reveal and well we only have one thing to say WELCOME TO DUBAI!
In partnership with Red Bull Skydiving and Spanish wingsuit athlete Dani Roman, the team players got the first look of their latest jerseys in nothing but a major Dubai-STYLE reveal.
Roman parachuted over the players and released down some smoke bombs at the beach ahead of his landing at the Palm Islands and dropped off a bag full of jerseys for the players to grab and try on.
The 13th edition of the IPL starts on Saturday, September 19. Rajasthan Royals will face Chennai Super Kings in their first match in Sharjah on September 22.