Latest
Shaded Carts To Make Dubai's Summer Heat More Bearable For Municipality Workers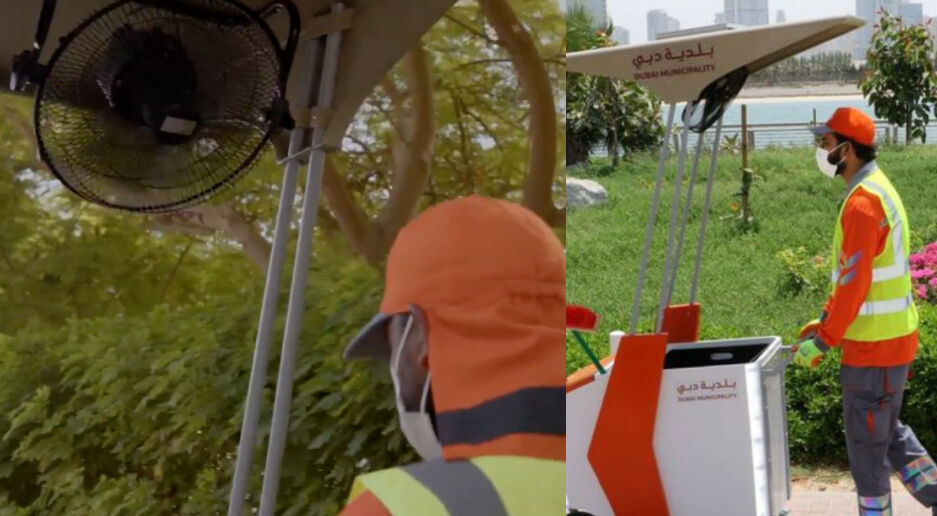 If we can't even stand walking to our cars during Dubai's scorching summer, then imagine the plight of outdoor blue-collar workers who tirelessly labour under the hot sun.
Dubai Municipality cleaners are the main reason we're able to enjoy a clean and filth free city! Ensuring they pick up after us (which shouldn't be the case, to begin with) they quietly get on with the work designated to them with zero complaints. And to make their lives a tad easier, Dubai Municipality has allocated carts with features that meet all the cleaners' needs to perform their tasks in a comfortable environment.
Their cleaning carts include features such as:
A solar-powered fan
An elongated hood for shade
Easy-to-move feature
A built-in capacity of 150 litres
2 storage spaces in which the worker can put all the cleaning equipment, instead of carrying them around manually
Keen on enhancing Dubai's unique aesthetic outlook, #DubaiMunicipality allocated vehicles with special features that meet all the cleaners' needs to perform their tasks and work in a joyful and comfortable environment. pic.twitter.com/sAaYNwHxcP

— بلدية دبي | Dubai Municipality (@DMunicipality) August 29, 2021
Initially, 25 trollies will be distributed to workers for them to use during their cleaning shift
This initiative not only makes Dubai's summer heat somewhat more bearable for workers but eases the strain of manually carrying around cleaning equipment.
These outdoor workers are truly Dubai's unsung heroes and no gesture will ever be enough to thank them for all their strenuous and consistent hard work!
Watch the Lovin Show: People Who Took The Sinopharm Vaccine Are Told To Get The Booster
ALSO READ: Cycling Enthusiasts: Dubai Has Built A 50-KM Sand Bike Track In A Forest