Latest
Dubai's First Ever Vegan Cocktail Bar Is Actually A Brilliant Night Out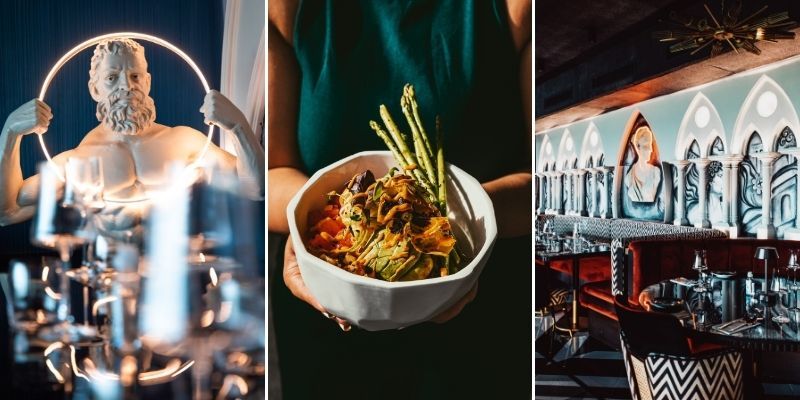 Vegans and veggies, we bring BIG news!
There's a new lounge calling your name, with a menu that packs a punch, and the best night out scenes we've seen in quite some time.
Enter Epitome.
Hailing from Mumbai, Epitome already has a big fan base in India so as soon as it opened its doors here in Dubai, the crowds were already rolling in, and with good reason.
It's a lounge bar, with DJs every weekend. The food is plant-based, which means vegans and veggies in Dubai FINALLY have more to choose from than a humble mushroom risotto. Even the drinks are vegan, and similar attention to detail has been paid across the bar. The decor features Roman Gods, the walls are hand-painted, the music level is perfect for chats and even the floors are worthy of a gram snap!
As a meat-eater, who occasionally dips my toes into vegan and veggie food, I was intrigued to give this place a shot, and genuinely blown away by the food on the night!
If you're looking for a FUN bar with a veggie and vegan focused menu – Epitome should be on your hitlist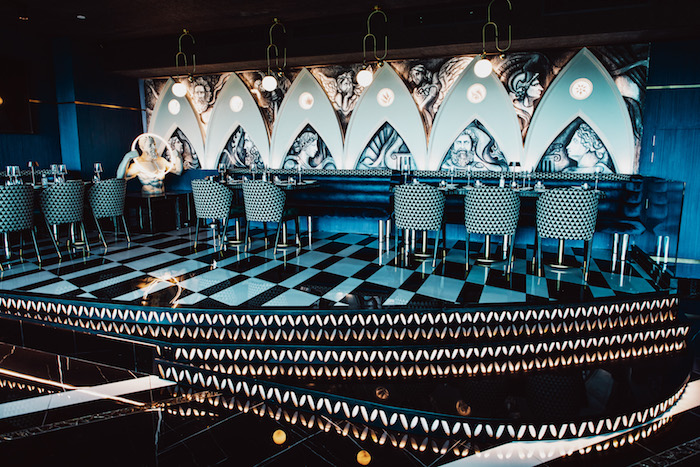 I've never experienced 'high-end' plant-based cuisine, and it's rare you find an adventurous international menu that tastes as good as this
The menu is an international jumble with cuisine from India, Japan, Mexico, Thai and China.
The plates are beautifully presented and well priced; you can tuck into Cantonese Lotus Crisps from AED 39, the unmissable Joohpuri Paneer Tikka costs AED 45 or save yourself for the Avocado Tikka Masala, a signature recipe with Tandoori avocados, Baby tomato Makhani curry for AED59… YUM!
The meticulous vegan-focused menu doesn't stop at the food. Yes, my vegan friends, this is a licensed bar with plenty of intriguing vegan-friendly cocktails to wet your whistle with AND shisha lovers have an extensive range of not-your-run-of-the-mill shisha to explore.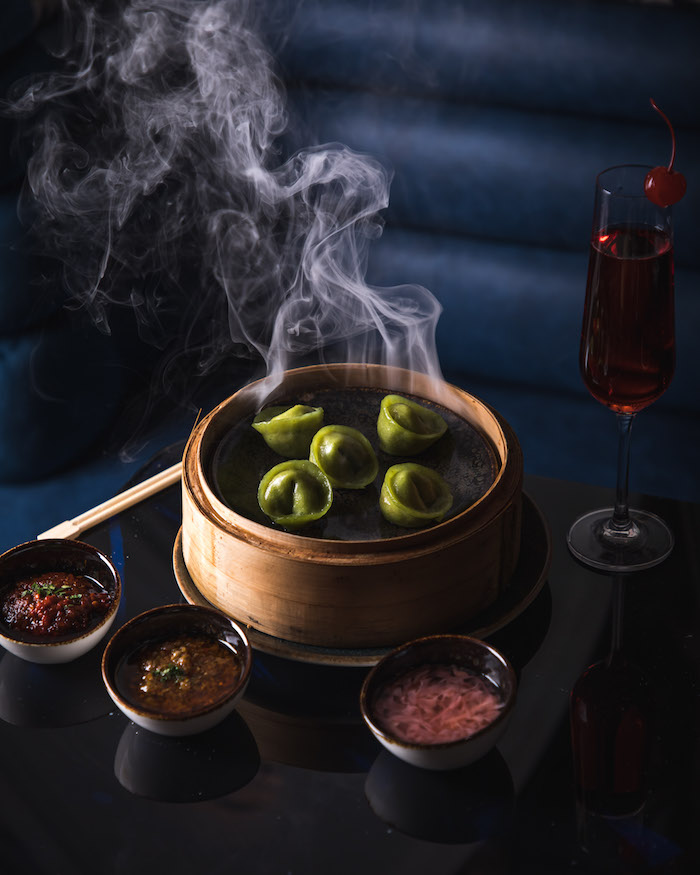 Go for the vegan food, stay for the brill bar vibes
The lengthy bar has a parallel outdoor terrace which has a similar slick style, the walls here are also hand-painted and the style is Art Deco. Soon, they'll cover the terrace, meaning you can soak in delicious views and nag the vegan aperitivo drinks deal (This deal will launch shortly).
There's also an urban night every Thursday with DJ Beatz and a Bollywood night every Friday. Once dinner wraps up, the DJs take over and you're left with one proper party bar. BOOM!
Tables are limited and you're advised to book in advance to secure a spot – All info here!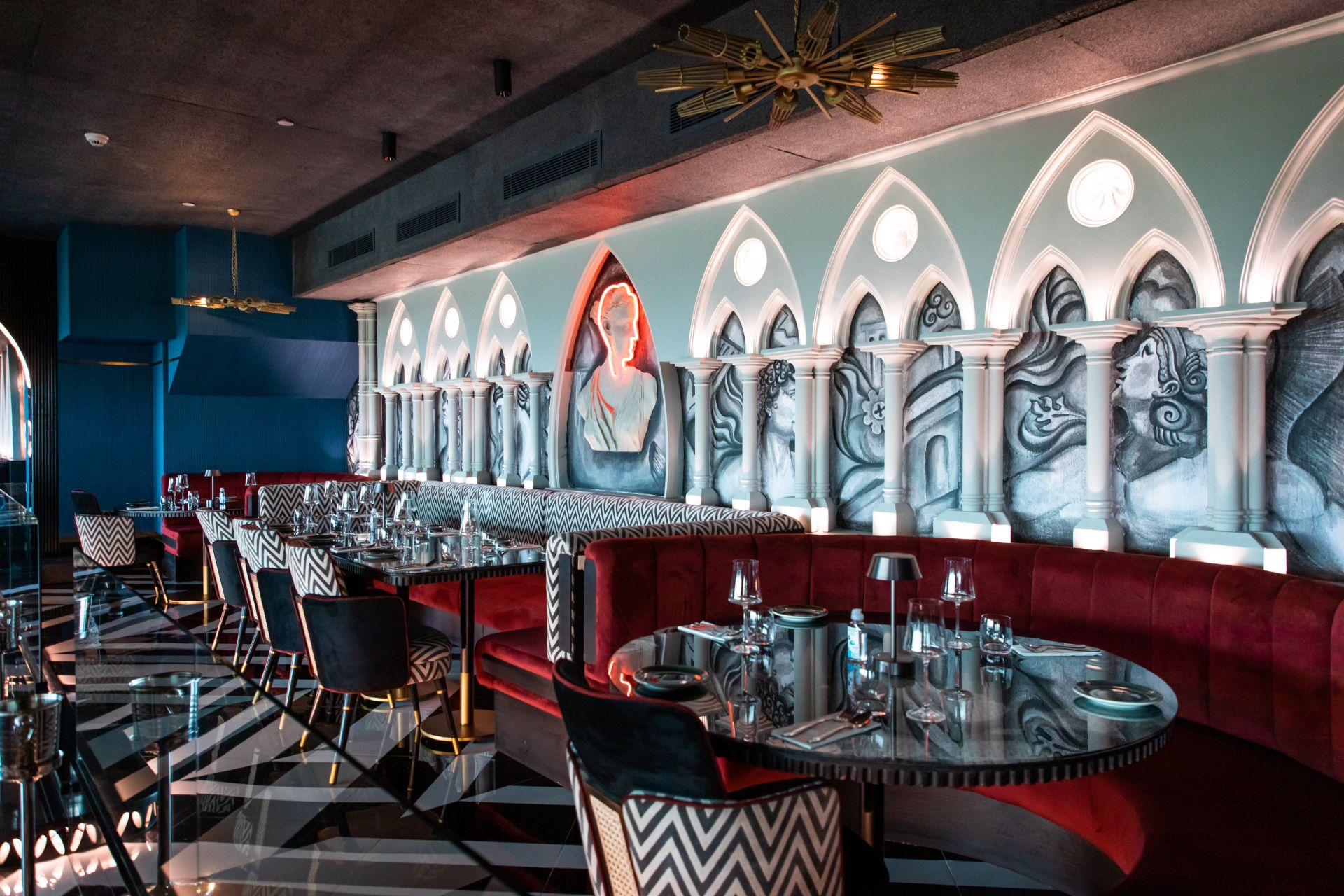 The important bits
Where? Located Aloft Creek, Level 4
Call? 054 705 3780 OR 054 705 3577
Opening Hours? 7pm – 2am 7 Days a week
Free self-parking available at Aloft Hotel