Latest
Here's The Low-Down On Getting The Best Possible Care For Critical Illness WORLDWIDE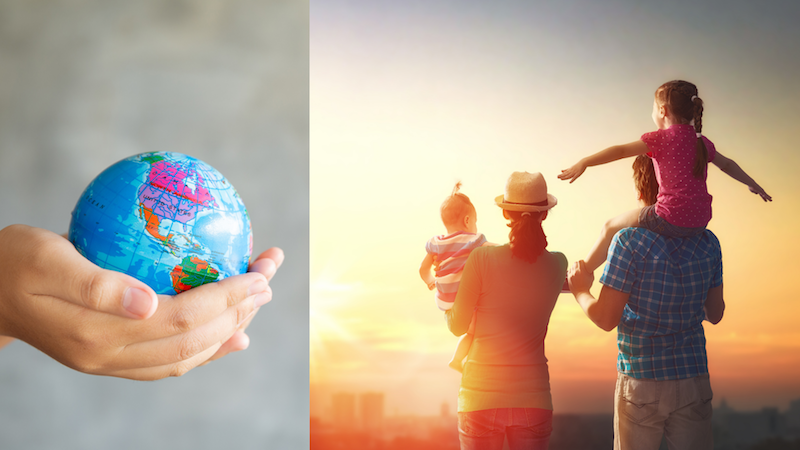 If the worst happens, you'll be covered.
It's a scary but important message and it's one Petra Insurance wants to make noise about. There's a special type of cover available which means you can get access to the world's best specialists and hospitals for both you and your family.
Petra Insurance is offering premium cover, with access to the best doctors in the world and added benefits of travel for you and your family, in the event of major illness. For a small price, the cover offers the peace of mind that you're protecting yourself and your family in case of critical illness and is a seriously impressive amount of coverage (scroll down for deets) for a small price, considering both you and your family are protected.
Learn more about getting access to specialist care worldwide with Petra Insurance here.
Health Cover Abroad offers incredible value for extensive coverage at the world's best medical centres
Health Cover Abroad is a little known secret for insurance cover you should wrap your head around
It offers comprehensive critical illness benefit that can support you through your entire critical illness treatment from diagnosis to recovery, it's low maintenance and brilliant value for money.
You'll get treatments at the best hospitals in the world, including Johns Hopkins, Mayo Clinic and the Cleveland Clinic in the US, Royal Marsden Hospital and King's College in the UK, Universitaetsspital Zurich in Sweden, University Medical Center Hamburg-Eppendorf in Germany… among others.
And considering the value, it's very well priced.
Coverage starts from as little as ~$0.70 per day for kids or ~$2.70 per day for adults and offers coverage for USD2,000,000 per lifetime/ USD 1,000,000 per year.
(See the full list of participating countries, and get more info here)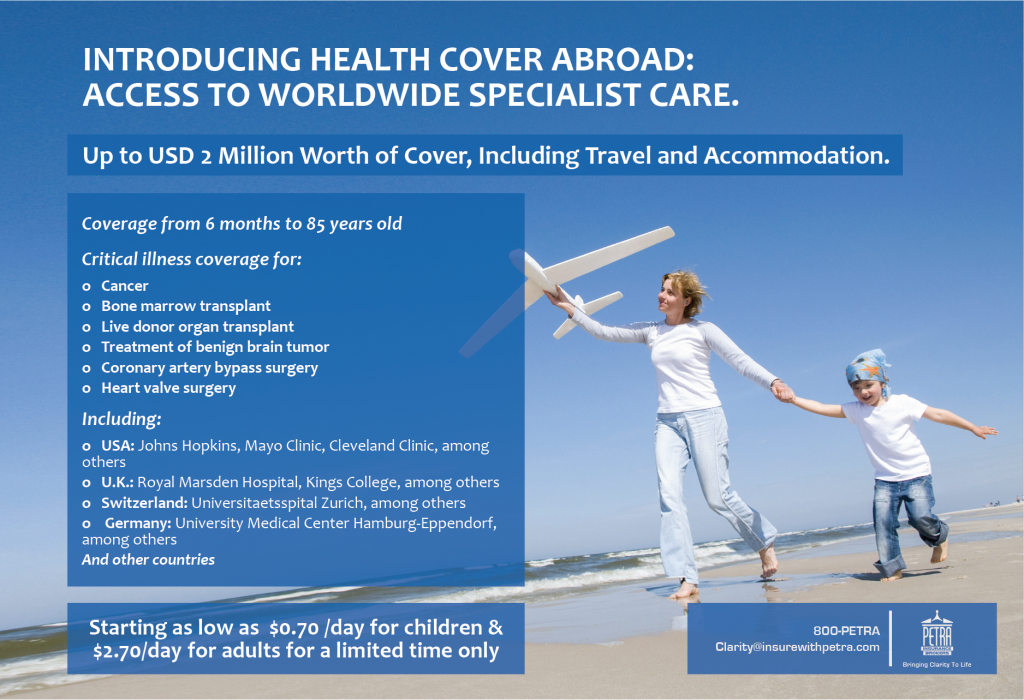 Combine Health Cover Abroad with a global life insurance plan and you're basically covered no matter where you go in life
Your cover includes critical illness including cancer, bone marrow transplant, living donor organ transplant, treatment of benign brain tumour, heart valve surgery and coronary artery bypass surgery. You'll also be covered for the following:
Medical Treatment
Hospitalization costs and services, including surgery
Doctor's visits or consultations
Travel insurance
Transportation (from the airport to hospital)
Accommodation and cost of your spouse to travel and stay with you
If the insured is a child, both parents will also be covered
It's never too early to think about life insurance
"Do I even need life insurance?"
In one word… yes! If you pass, your life insurance policy will be passed on to a beneficiary, guaranteeing financial security for the family you leave behind. It's what we dread to think about… but 'needs must'.
You have two options with Petra Insurance; a protection policy or an investment policy. A protection policy is a one-time payment most suitable for those with existing health issues. An investment policy will protect someone's entire life via capital growth from premium payments. There are plenty of variables, (see them
here
) and Petra Insurance is on hand to help you navigate the factors when evaluating your own policy needs.
For direct inquiries, you can contact 800-PETRA or email clarity@insurewithpetra.com.