Latest
This Is FIFA's Only Official Fan Zone In Dubai And It Looks INCREDIBLE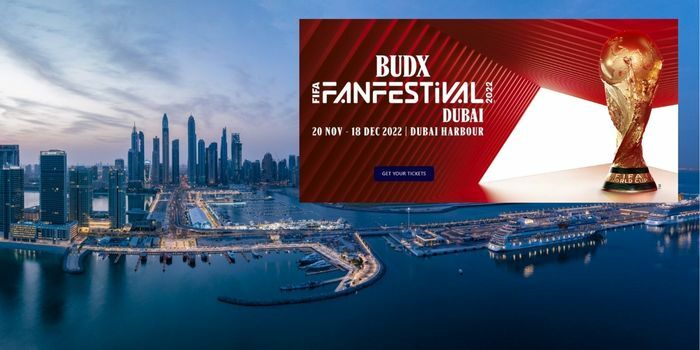 There are SIX 'official' FIFA fan zones in the world, and you'll find one of them in Dubai…
With one MASSIVE 330sqm screen and an 'unparalleled live 4D audio feed' the state-of-the-art BUDX FIFA FESTIVAL will be buzzing from Day 1. Can't make it to Doha? This will be the ultimate fan experience with stadium vibes and one B-E-A-utiful Marina view.
The Dubai Harbour venue expects 10,000+ football fans daily, (all fans welcome!) with a jam-packed line-up of artists, DJs, and FIFA football legends.
The other fan zones are located in Doha, London, Mexico, Rio, Sao Paulo, Seoul.
This will go OFF: Big acts lined up already for opening night and throughout the 3 weeks
View this post on Instagram
The ticket packages
A ticket gets you all-day access to all the games. High tables and lounges can be booked for the duration of the game.
Ticket prices start at 78.75
Private suites are available for a particularly boujee WC experience.
High table for 4 for 2 hours
Choose either
24 BOTTLES OF HOPS,
1 BOTTLE OF SPIRITS
OR
4 BOTTLE OF VINO
INCLUDES ALL DAY ACCESS TO GENERAL AREA AND PREMIUM ZONE
Lounge table for 8 for 2 hours
CHOOSE EITHER
48 BOTTLES OF HOPS,
2 BOTTLE OF SPIRITS
OR
6 BOTTLE OF VINO
INCLUDES ALL DAY ACCESS TO GENERAL AREA AND PREMIUM ZONE
See premium experiences here
View this post on Instagram
The important bits
20 November | 5:00pm – 3:00am
21 to 28 November | 12:00 pm – 03:00am
29 November to 18 December | 3:00pm – 03:00am
Psst! This is a 21+ venue
View this post on Instagram