World Cup
Lovin Dubai World Cup Puppy Predictions With Debbie The Dog!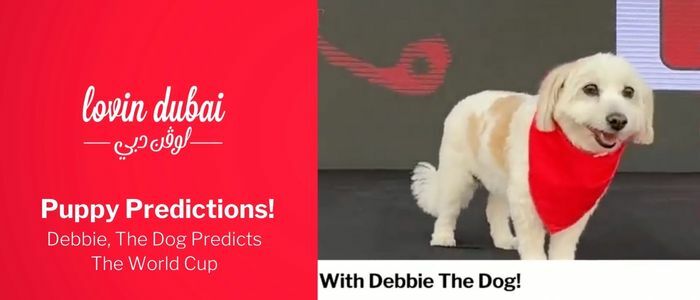 The results are in!
Debbie, the dog has been hard at work. She's been rating players, analyzing managers and studying the schedule to prepare her elusive findings.
And she's made her decision.
Debbie is doing World Cup predictions and she KNOWS who's going to win the World Cup. She was down at ISD this weekend, and she's now prepared to share her findings with Lovin Dubai.
Watch: World Cup Day 2 Puppy Predictions with Debbie, the Dog
Here are today's predictions… C'mon Debbie you got this!
Debbie smashed this was a CORRECT Japan prediction
Debbie predicted a win for Tunisia, but the match resulted in a draw… Close enough!
World Cup Puppy Predictions!#lovinshow #lovindubai pic.twitter.com/ogcd6hnv1i

— Lovin Dubai | لوڤن دبي (@lovindubai) November 21, 2022
Debbie says:
Netherlands VS Senegal – Netherlands
England VS Iran – Iran
USA VS Wales – USA
Stay tuned to see who Debbie thinks will win the World Cup
There's a huge family-friendly fan zone in Sports City
64 matches will be broadcast live on 3 high-definition 4K mega screens, set on a full-size, natural grass football pitch. There'll be live music, with English sing-along bands, a Brazilian samba band, DJs, and more to make sure this is hopping from start to finish.
Activities for all ages, including an area dedicated to kids with football-themed games, face-painting and castles. A 5-a-side World Cup will also be going on for the littlies!
Book your tickets in advance ASAP!
Easy access, plenty of free parking with over 1,200 car capacity
Tickets can be purchased at www.isdfanzone.com or on the ISD BE App, which can be downloaded from the Apple or Google Playstore.
For more information call (055 365 7076).
View this post on Instagram
Read next:16 Epic Fanzones In Dubai To Watch The FIFA World Cup
Football fans are getting closer to the World Cup season they've all been so eagerly waiting for. Excitement is in the air.
Venues around the city are being set up to provide a spirited FIFA experience for fans, serving top-notch food and beverages to go along with the intensity of the matches.
Read it here.