Announcements
AMAZING! Watch How These Saudis Who Couldn't Speak English Tried To Explain The Dangers Of Torrents To Tourists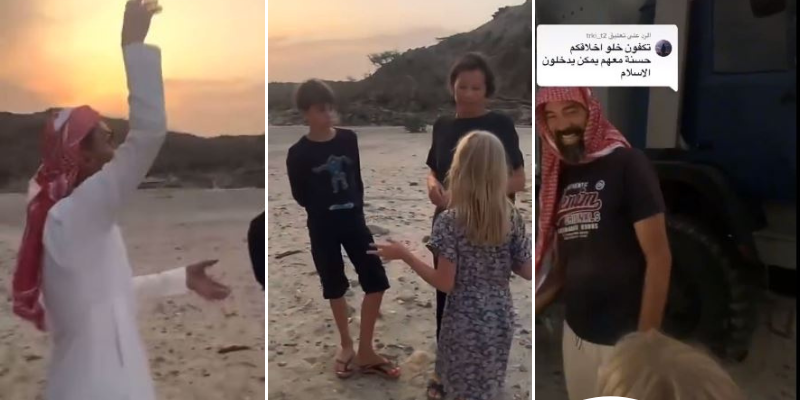 A family from Germany was seen exploring some areas of the Kingdom when they came accross a group of young Saudi's that wanted to make sure they're aware of the surrounding torrents
شباب لا يعرفون التحدث باللغة الانجليزية يسعون جاهدين لمنع سُيّاح ألمان من الجلوس بمجرى السيل لأن ذلك خطرًا على حياتهم🇸🇦♥️ pic.twitter.com/d0fc3Xyi50

— Gorgeous (@gorgeous4ew) August 21, 2022

This is an everyday thing here in Saudi Arabia, that you get to see a heartwarming gesture of Saudi locals trying to make sure their tourists are welcome and safe. In this specific case, a family of four was seen exploring some areas of the Kingdom when a group of Saudi's came and tried their utmost best to explain the dangers of torrents. Keep in mind, these guys could not speak English at all, but weren't gonna let that stop them. They tried their best to make sure the family was aware of the effects of torrents, regardless of the language barrier.
The used hand gestures, common words, and even tried to act-out the danger of when water flows within the area all of which the tourists completely understood
Torrents wash over a workshop in Arar, Saudi Arabia. pic.twitter.com/vySYn97W8g

— Lara28 ✨💫⚡️✨🌟☀️👒 (@Lara28742634061) April 29, 2022

Torrents are a very serious issue in the Kingdom during the rainy season, and can wash away items INSTANTLY. Just over a year ago, a Pakistani resident was stuck in the waters of Yanbu due to the heavy torrents of the area. The couple then understood why they should be careful in the area and keep an eye out during heavy rainfall and other torrents nearby. This is one of those moments where you remember how welcoming and caring Saudi's truly are. To top it off, they even let the visitors wear the traditional Saudi Shemagh for fun!