Community
American Expat Sid Fritts Is Living His Best Life In Saudi Arabia And Posts All About It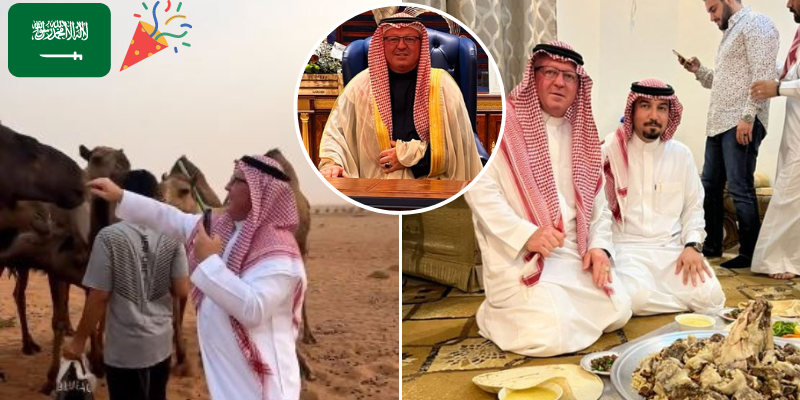 Life in Saudi Arabia looks AMAZING for this American Expat who posts all about his adventures around the Kingdom
#حنا_بدو
Just had a wonderful evening with my camel 🐪
I named it "Georgia"
You can't imagine the feeling I had as a camel owner.

Never blame Saudis and Bedouins for loving camel 🐪 🇸🇦🇺🇸@Samha_Camelclub @CamelClub @F_BinHithleen pic.twitter.com/jRqWxXT53Z

— Sid Fritts (@sid_fritts) May 29, 2022

Meet Sid Fritts, an American expat from Atlanta, Georgia who has literally been having the time of his life in the Kingdom. From international conferences, exhibitions, to even feeding his camel, Sid is really living it up.
The expat even guided Saudi's ISEF students on their trip to America
Sid Fritts @sid_fritts the american who loved KSA like his home, he welcomed and guided our champions in #ISEF, listen to his interview with @heavyanas at 9pm. #saudia_radio pic.twitter.com/YFSPrFUm56

— Saudia Radio (@saudia_radio) May 23, 2022
Sid also gets to meet the coolest people on a daily basis, and has been there for the Kingdom's major milestones. He posts all about his trips in and around the Kingdom, and gets over hundreds of likes for it. The blogger has a total of 23.4 thousand followers on his Twitter, and his tweets make life in Saudi look super fun.
He posted pictures of Taif's record-breaking flower basket and was actually there when it was presented
It was a pleasure meeting you there. It's Such a beautiful place I had the honor to witness Worlds largest bouquet of roses that was put in the Guinness book of world records.84,000 roses in the bouquet and 90,000 hanging from the ceiling.They had 120,000 visitors in one day.🇸🇦🌹 https://t.co/vc1ekW40T5 pic.twitter.com/641Szu1eQj

— Sid Fritts (@sid_fritts) May 19, 2022

If anyone is exploring and enjoying Saudi to it's full potential, it's this guy.