Food
5 Of Jeddah's Most Over The Top Burgers That Every Burger Lover Needs To Get Their Hands On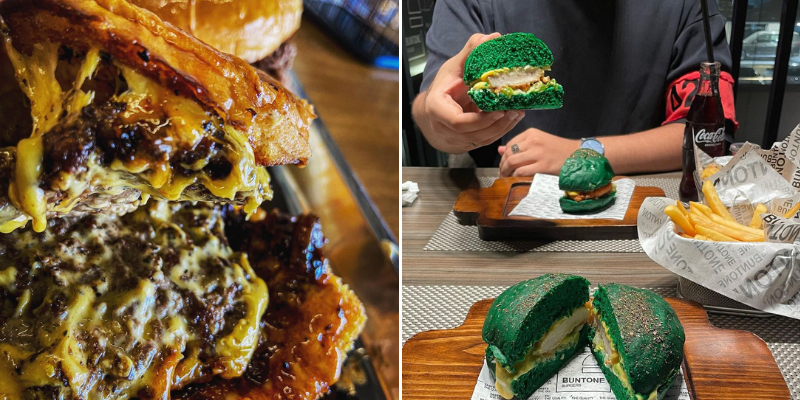 Burger joints are the only establishments that might possibly equal the city's absurdly high concentration of coffee shops. There are tonnes of them, sometimes found even in the most obscure places. After scouring so many of them, here's a list of some of the most outrageous ones that you'll find in the city.
1. Deer Burger At Buntone Burger
The burgers here have a lot of colour—their buns come in so many colours, each with its own taste. So bid adieu to those uninteresting brown buns and welcome your burgers, which are available with green, black, or even blue buns. Don't let the colourful buns distract you, let the patties do that, as you can even ask for ones made of duck and deer too. The deer-patty burger will win you over, and you might just possibly skip the beef ones for it.
View this post on Instagram
2. Maple Sriracha Burger At Wister
Home-grown burger and ice cream joint Wister is taking over the country by storm – there are literally on a branch opening spree. Their decently priced burgers have become quite the rage. The burger menu isn't extensive, but the Maple Sriracha Burger on there is one you just can't tire of. There's so much sauce in it that your palate will be pushed to the limit trying to process it all.
View this post on Instagram
3. Korean Chicken Burger At Layers
If you're one of those rare people who prefer chicken burgers over beef ones, then this one's just for you. As the name suggests, you'll be in for a lot of Asian flavours on this one, which is a welcome break from the chicken burgers offered at practically all burger joints. That Korean sauce on the burger is a winner all the way.
View this post on Instagram
4. The Swiss At Chef's
Many consider this to be the best burger joint in Jeddah, and once you try "The Swiss," you might as well join the band. Come hungry, as this is something that's heavy, like really heavy. Think of two sizeable beef patties, Swiss cheese, brioche bread and pickles, mouthwatering yet? Wait till your one bite in. Pure bliss!
View this post on Instagram
5. A At Section-B
From its modest beginnings as a restaurant that only offered take out one day a week from a little hole in the wall place, Section-B has come a long way. On weekends, you might have to spend a pretty long time to get a table, as they've got loyalists that run up into the thousands. Ask for their signature "A" and you won't be disappointed. You can deffo hype this as much as you want in front of your squad and know that it will live up to the hype.
View this post on Instagram