Food
5 Quirky Restaurants In Jeddah That You've Got To Visit At Least Once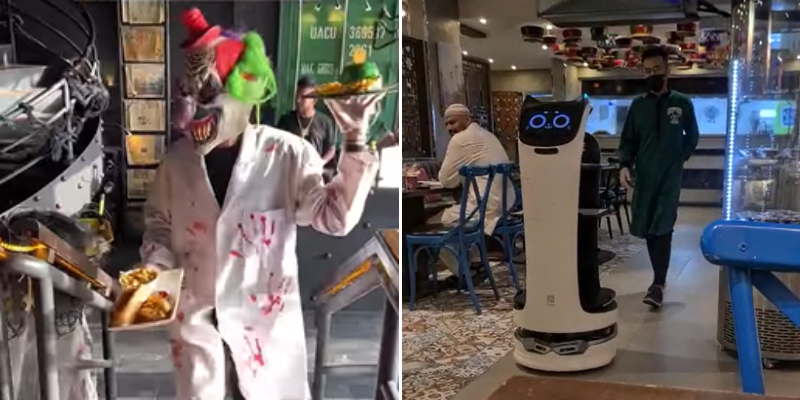 Jeddah's dining scene is seeing new restaurants by the day. A lot of them are basically serving the same food that we've been having in a similar setting that we've grown accustomed to, but not all. A new wave of Jeddah restaurants includes some unusual, some quirky, and some downright weird. This list covers them all.
1. Khosh Hal
It's 2022 and we still don't get to see robots walking down the streets you'd say. If you're in Jeddah, you'll not see them walking down the streets yet but you'll find them moving around a restaurant serving food.The restaurant by itself isn't quirky by any means, it's actually a pretty good upscale Pakistani restaurant by all metrics, but the robot serving the food here definitely is.
View this post on Instagram
2. Magad Café
Coffee shops are one too many in Jeddah, and they virtually all have the same industrial chic design. But here, in the heart of Jeddah's old town, lies this café that's almost a museum of sorts. It houses so many relics and paraphernalia from the 20th century that it will take you down nostalgia lane. Plus, the café itself sits in a building that's at least over a century old. What's there not to love?
View this post on Instagram
3. Central Perk
If you're a fan of the American sitcom "Friends," you already know what Central Perk is, if not, it's basically the main hangout for the lead characters. Jeddah got its very own version of Central Perk not so long ago. It's a place where you can expect good coffee, episodes of "Friends" being played on loop and a corner that resembles Monica's kitchen to the dot.
View this post on Instagram
4. Trend
Only the brave can afford to have dinner here. It has a spooky vibe all year, from kitschy to legitimately scary, especially the masks that the waiters don. It's difficult to comprehend why anyone would consider having dinner in such a setting. But hey, people even come here with their kids, so yes, good food outweighs spookiness, probably. Talk about a dinner with a difference.
View this post on Instagram
5. Papaya
You'll find yourself dining among lush greenery—so much of it, in fact, that it's almost like you're dining inside a plant nursery. The place is hugely popular, and you may want to reserve that table in advance to be on the safe side, especially on the weekends. It definitely helps that the place boasts extensive breakfast, lunch and dinner menus that are actually good—like, really GOOD!
View this post on Instagram