Best Of Dubai
10 Of The Hottest Indian Restaurants In Saudi For Your Biryani Fix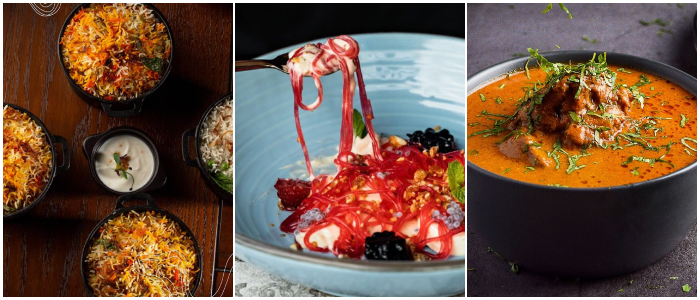 There's spicy food — and then there's Indian food. Yep, your tastebuds haven't experience true spice and flavours until you've tried the popular South Asian cuisine. From aromatic biryanis, to creamy curries and the softest, freshest naans, Indian food is something you'll find yourself craving from time to time. Indian restaurants in Saudi are quite authentic, with chefs straight from India and major popularity.
Here are 10 of the hottest Indian restaurants in Saudi:
10. Naya Daur
Roughly translating to a "new age" this new Khobar restaurant has a cool, eclectic ambience which is a hit with the hip crowd. The interiors are eye-popping as is the presentation of your food, which is classic with some twists like the za'atar naan. Make sure you try the delicious mojitos to wash down all the spicy food.
View this post on Instagram
9. Tikka Express
This Jeddah eatery offers an extensive menu of all the Indian classics and then some, without breaking the bank for more budget-conscious eaters. Their grill items and tandooris are super sizzling hot and fresh and they've got literally every dish you could possibly be craving, plus some new flavours like masala topped fries and also lotus and Nutella naans. Major noms.
View this post on Instagram
8. Babulal
Wanting something a little less formal and a little more on-the-go? Look no further than Babulal. This Jeddah Indian restaurant serves up the yummiest street food. They also offer up grill kits so you can impress your guests and look out for their exceptional lunch specials.
View this post on Instagram
7. The Bay
You'll come for the food at this Jeddah restaurant, but leave remembering the exceptional service and smiles fans say. The contemporary interiors give you a relaxed feel here, while you tuck in to many many courses. The super extensive and tempting menu will have you ordering not just mains, but appetizers, desserts and drinks too. Their chaat alone will send you to culinary heaven.
View this post on Instagram
6. Raan Mahal
You'll get Indian street party vibes at this laidback joint in Riyadh. The menu is super cool and experimental for anyone wanting to try a little something new. Biryani arancini balls, lamb quesadillas and tacos are just a few of their offerings.
View this post on Instagram
5. Raftaar
Crowds are flocking to this new Khobar restaurant. The menu is full of fresh takes on classics like the deconstructed falooda ice cream dessert, lavender kulfi and rose mojitos. Their karak tea is the perfect ending to any meal.
View this post on Instagram
4. Zafran Indian Bistro
Zafran has super conveniently located bistros in Riyadh as well as Dubai. Their biryanis and grill items are always done to perfection. If you're looking for a good butter chicken, this is the place.
View this post on Instagram
3. 5 Rivers
This fancy Indian restaurant will give you a taste of the flavours from throughout the large south Asian country, from North to South. Even an Indian food conneiseur will find something new to taste here. Don't forget to try their extensive menu of lassis, mojitos and teas.
View this post on Instagram
2. Copper Chandni
You'll be captivated by the grand exteriors and interiors of this large, sweeping restaurant that will make you feel like you're dining in a fine Indian palace.
View this post on Instagram
1. Maharaja
Renowned Chef Vineet Bhatia's culinary creations can be tasted in Riyadh, Khobar and Jeddah (Rasoi by Vineet). The restaurants are hands-down the most upscale Indian dining experience you can have, with their regal interiors and impeccable service. The food is served hot and spicy — make sure you specify your spice level if you can't take a lot of heat! It's perfect for a special occasion.
View this post on Instagram
READ NEXT: 5 Restaurants With The Best Views In All Of Saudi