Best Of Dubai
4 Saudi TV Shows To Binge Watch On Netflix Right Now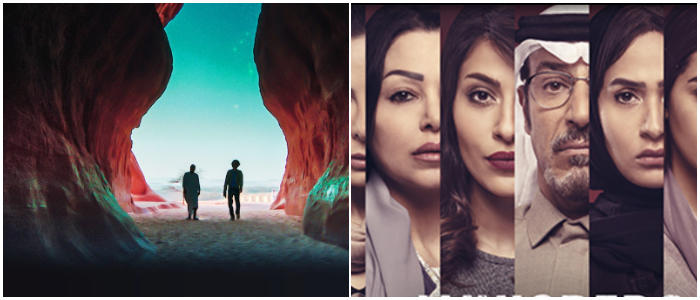 Do you spend more time scrolling your Netflix menu than actually watching anything? Same. Luckily, there are several Saudi TV series that are a total breath of fresh air from the same old shows you've watched and re-watched or that are totally over-hyped.
Here are 4 Saudi TV shows to binge watch right now:
4. Masameer The Classics
If animated stuff is more your thing, there are 4 seasons of this cult classic "Masameer" to keep you laughing. Based on a YouTube series created by Saudi animation studio Myrkott has satire, dark humour and social commentary. The series has been so popular the show was also spun-off into a film — which is also on Netflix.
3. Six Windows In The Desert
This Netflix series is actually a compilation of six Saudi-made short films, which debuted just last year. It's meant to cater to a global audience, shedding on life in Saudi Arabia, and is a glimpse of what the Saudi film and television industry has to offer. The series provides commentary and insight into life in the Kingdom, society, and touches on some taboos. You'll also see work from well-known Saudi talent, such as award-winning director Meshal Al Jaser. It's a quick binge and well worth your time.
2. Takki
Go inside the world of young 20-somethings as they navigate life, relationships, and culture in Jeddah in this day and age with Takki. The series become a cult favourite on Youtube when it came out in 2012 and was licensed by Netflix. The director says Takki was such a big hit, especially with the younger generation, because it isn't the typical melodrama you find on regional soaps with the same old story. Takki tackles the challenges of young people in Saudi as they grapple with social change and their identities.
1. Whispers
This Saudi TV show is the first Saudi Netflix original, which is groundbreaking. The psychological thriller, which is directed and written by Saudi filmmaker Hana Alomair, revolved around the fate of a family as the patriarch suddenly dies causing a chain of events that unravel family mysteries. Each episode is uniquely told from the point of view of a different family member– many of whom are notably female. The female director says she wanted to make a point to showcase female Saudi characters. One can only hope the success of "Whispers" will make way for more Netflix originals based in Saudi and which showcase the talents of Saudi actors and filmmakers.