jeddah
A British Man Is Trekking 1300 KM Across Saudi In The Footsteps Of Legendary Explorer Harry Philpy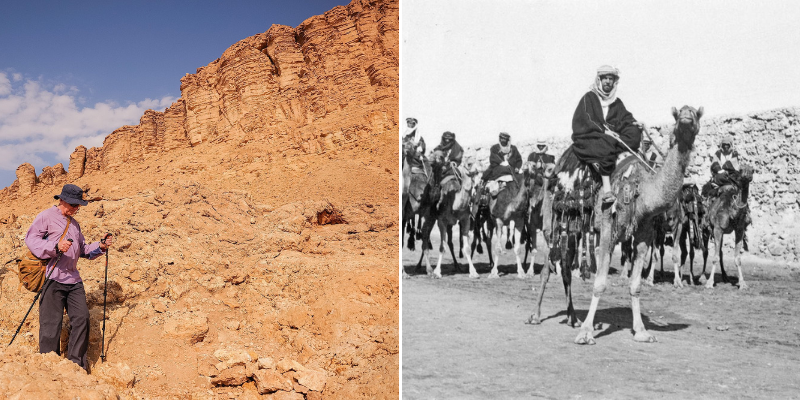 105 years ago, British explorer Harry St. John (Abdullah) Philby crisscrossed Arabia and even wrote a hugely popular book about his journey later. Now another fellow British explorer, Mark Evans, over a century later, is leading a team that's loosely following Philby's 1917 trail.
The journey across has been dubbed the "Heart of Arabia Expedition" after Phiby's book.
We're off! Leg 2 of @heartofarabia_ is underway, following ancient camel trails bound for Jeddah @UKinSaudiArabia @SaudiBritishSoc @PrepGrammar @ExplorersClub @IASArabia @AdventurousAud1 @SaudiGeography @KSAHeritage pic.twitter.com/zLBakAZAcJ

— Mark Evans Oman (@UniOfTheDesert) January 16, 2023
But this isn't just your regular trek, field data will be gathered on this journey, and they do plan to visit sites (many unknown) that Philby mentions in his travelogue.
In 1917 explorer St John Philby wrote about herds of gazelle on the plains west of Riyadh. Today our @heartofarabia expedition found evidence of Ostrich-last seen in the 1930's. Broken eggshells and ancient rock art @UKinSaudiArabia @SaudiBritishSoc @ExplorersClub @PrepGrammar pic.twitter.com/8mEp3PsQz7

— Mark Evans Oman (@UniOfTheDesert) January 17, 2023
The team which comprises people from around the world has set off from Uqair on the country's eastern coast in November.
The team received a great send-off at #Diriyah from direct British and Saudi descendants of Harry St John Philby. The cousins (Philby's grandchildren) met for the second time in #Riyadh after the British contingent travelled to #SaudiArabia for the departure of the expedition. pic.twitter.com/oUILXVzBJP

— Saudi Embassy UK (@SaudiEmbassyUK) January 17, 2023
The journey hasn't been easy even in winter—just look at the morning temperature that Evans tweeted.
Several hours progress towards Jeddah this morning as we wound our way along ancient villages and wadi beds. 4 degrees C at sunrise.@heartofarabia_ @UKinSaudiArabia @SaudiBritishSoc @AngloOmaniSOC @RoyalScotGeoSoc @PrepGrammar @SaudiEmbassyUK @MBIFoundation pic.twitter.com/TI5afr9v2L

— Mark Evans Oman (@UniOfTheDesert) January 18, 2023
The sporadic rains in Saudi have also caused much difficulty for the team.
Heavy rains in central Arabia will make it heavy going for the @heartofarabia_ expedition team when they leave Riyadh on Jan 16. @UKinSaudiArabia @SaudiBritishSoc @IASArabia @PrepGrammar @Darahfoundation @mocsaudi_en @AngloOmaniSOC @ExplorersClub @RGS_IBG @RoyalScotGeoSoc pic.twitter.com/T82GxPta7B

— Mark Evans Oman (@UniOfTheDesert) January 11, 2023
But nonetheless, the team is persisting, and you can track their progress here.