Latest
10 Riyadh Spas That Will Make You Feel Brand New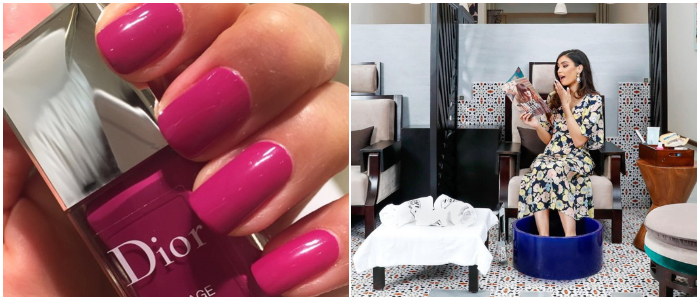 Sometimes you just have to treat yourself. Whether it's a special occasion, a payday treat or if you need to relax and rejuvenate, a trip to the spa is much needed. Maybe you need a massage to soothe your tense muscles, your hair needs a little TLC or you're in need of a little pampering. The many Riyadh spas are sure to have something to cater to your every need and then some.
Here are 10 Riyadh spas that will make you feel brand new again:
10. The Label
Walk in and let the stresses of your day melt away in this super chic spa which offers every service you could need to feel your best. You'll be able to split into their cute logo slippers upon arrival to kick start the experience and can choose from services like a luxury mani-pedi and hair treatments to give your damaged hair a little TLC.
View this post on Instagram
9. Al Manahil Center
Life got you feeling run down? There's no better place to rejuvenate the body than at Al Manahil in the Diplomatic Quarter. The huge facilities include a fitness and recreation centre along with the spa. Workout then treat your achy muscles to one of over a dozen different massages they offer. They've got cutting edge treatments like body wraps and slimming, and thermobeds.
View this post on Instagram
8. Kafiki Spa
You'll love the clean, airy interiors and ambience at this trendy spa. Kafiki is known for their nail services– any sort of nail art or design you want, they can most likely do it. Perfect for a little pre-event pampering with friends.
View this post on Instagram
7. Beauty Care
Hammam experience anyone? Experience tranquility, detoxification and some serious skin sloughing with Beauty Care's famed hammam services and come out glowing. You'll be pampered with fresh flowers, candles, and the nicest smelling essential oils to help you feel brand new.
View this post on Instagram
6. Narci Spa
Make a whole day of relaxation out of a visit to the Narcissus Hotel's luxurious spa. They've got both mens and women's services plus a kids club to watch the little ones so you don't have to stress during your visit. The best part is access to their high quality steam rooms, saunas and pools for head to toe relaxation.
View this post on Instagram
5. Hot Stone
You'll feel like royalty in the super lavish treatment rooms at this upscale Riyadh spa. If smooth skin is what you're looking for, step into this spa and you'll leave feeling absolutely brand new. You've got to try their hammam services and one of their signature body scrubs.
View this post on Instagram
4. Vanilla
You'll feel pampered the second you walk into this blissful spa, where you'll get to change into a signature fluffy robe and slippers to spend your visit in. They also serve up a super tasty lemonade so don't forget to try that before or after your service! Vanilla's most unique offering by far are the jacuzzi treatments. Slip into their hot tubs for some hydrotherapy followed by some skin brightening scrubs like the chocolate spa therapy session, honey or even coffee spa. Yum!
View this post on Instagram
3. Four Spa
If there's one word to describe this spa, it's chic. With the prettiest interiors and the best nail services, it's the perfect place for a girls day out. They've got quality polishes in more shades than you can fathom, so you'll have the best looking nails for days.
View this post on Instagram
2. Ritz Carlton Spa
Easily one of the most upscale spa experiences, the spa at the Ritz is a must for any special occasions. This gentlemen's only spa offers services created especially for men, like an oxygen facial to detoxify skin and massages to ease tension and loosen up achy muscles.
View this post on Instagram
1. Al Faisaliah
Without a doubt one of the most upscale of the Riyadh spas, the Al Faisaliah Spa is run by renowned Espa. The full-body treatments are one-of-a-kind like the two-hour long royal hammam or the desert rain treatment, which uses water jets to destress and improve circulation. You can even rent out a spa suite for use with friends and more privacy. They've also got facials that will brighten even the most dull and tired skin. The menu is extensive and the spa itself is a luxurious treat for yourself. Book several treatments and definitely make a day of it, because once you step in you won't want to leave.
View this post on Instagram
READ NEXT: The 5 Best Walking Trails In Jeddah