Latest
48-Hour Quarantine For Those Vaxxed With Non-Saudi Approved Vaccines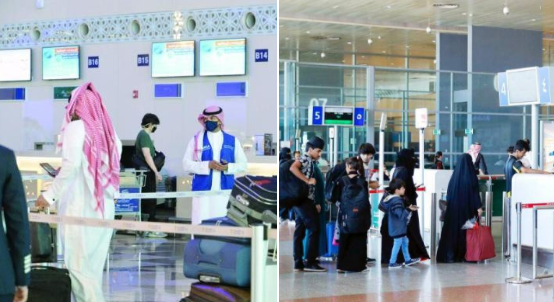 If you're planning to travel to Saudi soon and have not taken a vaccine from one on the approved list by the kingdom's Ministry of Health (MOH) then expect to face a 48-hour mandatory quarantine.
The Saudi Gazette has cited a source from the Ministry of Interior in its report who stated that such travelers will be subjected to home quarantine and must undergo a COVID-19 test within 48 hours of their arrival into the Kingdom.
The quarantine will end the moment their negative COVID-19 results are out.
تطبيق الحجر الصحي المنزلي عند قدوم أي من الفئات المستثناة من الحجر الصحي المؤسسي ممن لم يستكملوا تلقي جرعات أي من اللقاحات المعتمدة في المملكة. pic.twitter.com/YVPrUytR9M

— وزارة الداخلية (@MOISaudiArabia) October 4, 2021
COVID-19 tests are not required for children under the age of eight. They must, however, remain in quarantine at home for 48 hours after arriving in the Kingdom.
So far, the MOH has authorized vaccines from Pfizer-BioNTech, Oxford-AstraZeneca, Moderna, and Johnson & Johnson.
As of yesterday, the kingdom has administered over 42 million doses.
#الصحة⁩ تعلن عن تسجيل (42) حالة إصابة جديدة بفيروس كورونا (كوفيد-19)، وتسجيل (3) حالات وفيات رحمهم الله، وتسجيل (36) حالة تعافي ليصبح إجمالي عدد الحالات المتعافية (536,406) حالة ولله الحمد. pic.twitter.com/GkF2wH0TlR

— و ز ا ر ة ا لـ صـ حـ ة السعودية (@SaudiMOH) October 5, 2021