Latest
6 Things To Do In Jeddah During The 2023 Saudi Arabian GP Race Weekend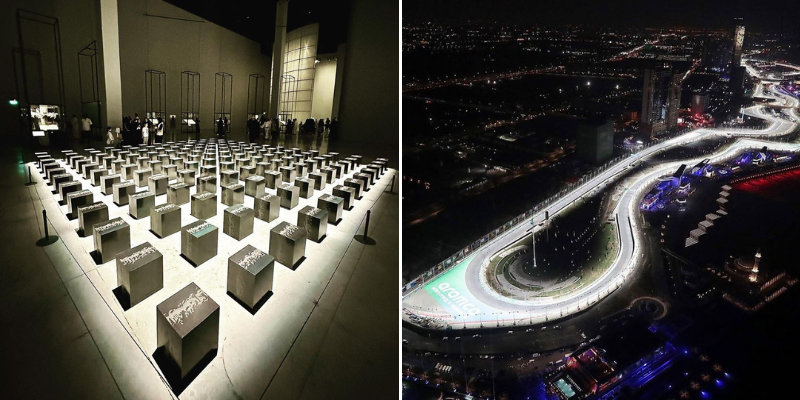 The F1 Saudi Arabian GP 2023 race weekend promises to be a thrilling event, especially considering that every single race that took place in Jeddah was action-packed with drama and edge-of-the-seat thrills. But the action on the track is just one part of what promises to be an unforgettable experience. Here are the best things to do during the F1 Saudi Arabian GP 2023 race weekend:
1. Stay For The After Race Concerts
Tickets to the race as always have been bundled with the after-race concerts. This year's line-up is absolutely ah-mazing. Catch world-class performances from Travis Scott, Calvin Harris, Afrojack, Charlie Puth, Swedish House Mafia, and Ahmed Saad at this year's edition of the race. Just make sure you don't have work on Monday because the Sunday night concert is expected to go on till the wee hours of the morning.
View this post on Instagram
2. Chow Down On Jeddah's Amazing Cuisine
With a diverse migrant community, Jeddah boasts an eclectic food scene with delicacies from all over the globe. Get some inspo from foodie YouTuber Mark Wiens who recently posted several food vlogs from the city and try some local favorites like Al Baik.
View this post on Instagram
3. Get In On The Action At The Fan Zone
You better get to the races fast not only for the seats but 'cos later in the night those fan zones get super crowded. There's that iconic Ferris Wheel to ride and a host of other amazing activities to try here.
انطلاق الفعاليات المصاحبة لسباق جائزة السعودية الكبرى "الفورمولا ١"
Fan zone activities on the side of Saudi Arabian GP@SaudiArabianGP @SAMF_GOV pic.twitter.com/lgHbvAVB92

— Saleh Fareed (@SalehFareed) March 25, 2022
4. Explore The City's Rich History
Al-balad in the southern part of Jeddah is a UNESCO World Heritage Site – that alone should be reason enough for you to explore the place while you're in the city. Entry is free, plus the place has cool cafes to chill at and a laidback vibe that probably is just like it was a century ago.
View this post on Instagram
5. Head To The Islamic Arts Biennale For An Unmatched Experience
The Islamic Arts Biennale in Jeddah is not your typical art exhibit. It's an explosion of color, patterns, and geometry that will transport you to a world of beauty and spirituality. The biennale showcases works of art from all over the Islamic world, including calligraphy, ceramics, textiles, and metalwork. If you're looking for a cultural experience that will leave you in awe, this is it. Just an FYI, it's so huge that you'll be walking for hours and still not be able to see everything that's housed here.
View this post on Instagram
6. Go Diving In The Red Sea
If there's just one activity that you've got time for while you're in Jeddah then it's got to be diving. The Bride of the Red Sea as Jeddah is fondly called by its residents is home to some super fab diving spots that are rich with marine life.
View this post on Instagram