Latest
A 4,500 Year-Old Highway Network Has Been Discovered In The Northwest Of The Kingdom!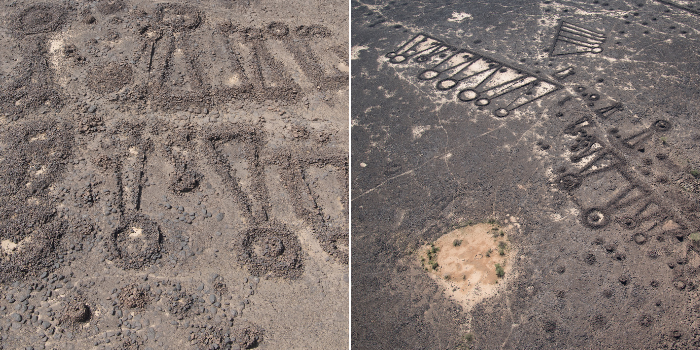 We would not have had nearly as many findings in Saudi Arabia if it weren't for drones. So thank you to whoever invented drones, 'cus those photographs aren't just making our Instagram feeds more addictive, but they're also helping to bring the kingdom's long-forgotten history to light.
A recent paper in a scientific journal called the Holocene mentioned the existence of an ancient highway network that was discovered by archaeologists from the University Of Western Australia (UWA) near Khaybar.
The research paper is pretty long, so let us tell you the gist of it.
Thousands and thousands of years ago people paid a lot of attention to everything related to funerals. A thing that they would do was construct what archaeologists call "funerary avenues" that had thousands of burial structures on both sides. These avenues would link oases and pastures.
Our new paper is out! "The Middle Holocene 'funerary avenues' of north-west Arabia" is #OpenAccess in @HoloceneJ and can be downloaded here: https://t.co/y1Fxs0zLcJ. So what did we uncover about the funerary avenues of #Khaybar? Read on to find out. Thread 1/13 pic.twitter.com/2l3yt0iS08

— AAKSA (@aaksa_project) December 15, 2021
They used to do this way back in the 3rd millennium BC – roughly around the time that Stonehenge was being built.
The funerary landscapes around #Khaybar are truly spectacular. Remember, you can read more about the 'Funerary Avenues' of Khaybar in our recent #OpenAccess paper. It is free to download for everyone.https://t.co/y1Fxs0zLcJ pic.twitter.com/QFlrsidxah

— AAKSA (@aaksa_project) December 20, 2021
The researchers apart from other things relied on aerial photography and satellite imagery to map out the place.
We were so fortunate to have colleagues, like Khaybar historian Saifi Eisa Al Shilali(@saifieisa) and AlUla expert Yousef Albalawi (@albalawi ) from @DiscoverAlUla collaborate with us. As always, our deepest thanks to @AmrAlMadani and everyone @RCU_SA. 12/13 pic.twitter.com/iCo28LpjJL

— AAKSA (@aaksa_project) December 15, 2021
If you're into history then we'd highly recommend this documentary by Discovery on the region that's available on YouTube in which they exhume some of these funerary structures. Saudi Arabia clearly has a lot of mysteries waiting to be unearthed.